February 2019
(click on the gallery images to open the full-size photo)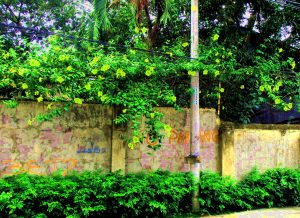 It's finally summer here in Iloilo.  I say "summer" with a big LOL after the word because it's ALWAYS summer here for somebody like me, a former denizen of the Bitter North in the USA.  My relatives are currently under a foot of snow and freezing their tushes off.  Half an hour ago I walked to the mall in short sleeves.  Yeehaw.  The word "summer" here in the Philippines means a season of more sun and less rain (if luck is with you).  The sunshine takes on that brilliant, incisive quality I associate with sunshine in Greece, where the illuminated surfaces fairly glow and the shadows cast are like ink.  It's a lovely time of the year here and I want to celebrate it by taking you on a little trip around Iloilo and its environs.  My trusty motorbike and I go out and about often in weather like this, so on a few of my trips I've had my camera out capturing some of the sights.  Come along and let me show you what lovely sights there are to see.
My time in Iloilo is quickly drawing to a close.  I moved here almost two years ago in an escape from Father Winter.  As I mentioned above, my strategy has been 100% successful in that regard.  I loll about on my balcony at all times of night and day enjoying the balmy weather while my relatives back in the States are past the ankles in snow and have at least two more months before the "w" word ceases to hold sway over the weather report.   I could have effected my strategy anywhere in the Philippines, however.  Why Iloilo?
Well, let me tell you.  Before I moved to PH I knew that I didn't want to be on Luzon, the big island in the north of the country that serves as a platform for the ungodly sprawl of Manila.  There are plenty of other places on Luzon where Manila doesn't get in your face, but when you look at the weather patterns it quickly becomes clear that if the urban sprawl doesn't get you the weather just might.  Storms come from the East, where the vast expanse of the Pacific Ocean lies.  When they hit land in the Philippines they invariably first hit those islands with eastern flanks exposed to the Pacific, a category into which Luzon fits over its entire length.  This past year two major typhoons wreaked havoc on Luzon, one in the north and another in the south.  Both storms did serious damage including loss of life due to mudslides.  All I experienced here on Panay Island was a bit of rain and the odd gust of wind — inconvenient, perhaps, for sitting out on the balcony but hardly life-threatening.  That's why I chose this part of the country, Western Visayas.  There are several islands to the East that take the brunt of typhoons before any major effects reach Panay Island, so only those typhoons (read: hurricanes) that reach superstorm status are still strong enough after reaching Panay Island to do major damage.
I chose wisely in that regard.  There's never been any major storm damage here in Iloilo since I took up residence.  Mind you, the weather patterns here in the rainy season (June through September) remind you of Seattle in the wintertime.  Last year it rained almost uninterruptedly for much of June and a good bit of July.  After getting through it I swore this year I'd go somewhere like Dubai for a month just to escape it.  As things have turned out, however, I'll be exiting stage left during the tail end of the Philippine summer and heading into summer back in the States, so I'm safe on that bet, thank goodness.
After first arriving in the country in 2017 I based myself in Cebu and travelled around the Visayas area, the central bit south of Luzon and north of Mindanao.  As soon as I got a good look at Iloilo I thought to myselft, "By George, I think we've got it."  I went back to Cebu for a few weeks, came back to Iloilo a second time for a full week to scope things out and decided during that visit to put roots down here.  I've never regretted the decision and still believe Iloilo is the nicest city in Visayas.  It can hold its own with places anywhere in the country as far as quality of life goes.  The beaches here on the southern end of Panay Island are not good — geology deals them a bad hand because the rock is largely volcanic in origin.  Unlike coral that makes those fantastic tropical fantasyland beaches you're used to seeing in the tourist brochures, volcanic rock gives you something more like the coast of Maine or Oregon.  It's rocky and the sand is not blinding white — in fact in some places it's dark.  That's what happens if you start the process with basalt, there's nothing to be done about it.  Being in any case much more a mountain person than a beach bum, I remained completely undaunted by the lack of fine beaches at close range.  It's easy enough to get to one if you have the urge.  Overall quality of life has top priority for me and Iloilo delivers on that commodity like a champ.
I'm in the modern part of the city very near two new developments that would be sources of pride in the USA, to be honest.  Here are a few pics:
The area in the pics is called Megaworld.  It's a large development that forms a small city area by itself.  There's a new mall, a gallery of shops, several BPOs (call centers, so you may be talking to somebody here when you chat up Comcast, UPS or a number of other large companies), with cafes and restaurants galore.  It's always a point of pride for me to take visitors from other parts of the country to Megaworld and spend part of the day lolligagging about.  One visitor from Bohol said to me after less than an hour, "I don't even feel like I'm in the Philippines anymore."  He has a point.  If you compare the visual impression Megaworld makes to that created by the old downtown area, you could easily think yourself in two worlds rather than in two different areas of a single city.  I'm very glad I live within a 15-minute walk of Megaworld, it's a huge advantage.  I'm also delighted that I have to take a taxi for 15 minutes to reach the downtown area, where I only go if I can't possibly avoid it.  It's not a pretty picture.
There's another development area in the vicinity called Atria or Smallville, depending on what part of it you're in.  It has a pedestrian mall called The Shops at Atria that I swear could be lifted and dropped somewhere in the American Southwest without anybody raising an eyebrow.  Here are some pics:
Let us not forget the historical elements of Iloilo, however, since they offer as much that appeals to the eye as the modern part does.  The city is fortunate to have two very fine historical churches and a few impressive mansions from the days of the sugar barons in the late 19th and early 20th centuries.  The churches are in the areas of the city known as Jaro and Molo.  Jaro is a stone's throw from where I live and its main church is the Cathedral of St. Elizabeth of Hungary, locally known as the Jaro Cathedral.  I believe I've mentioned elsewhere my astonishment that St. Elizabeth of Hungary turns up as the patron saint of a cathedral in the Philippines — she doesn't strike me as the type to gravitate to the tropics, truth be told, but it's not my business so I'll leave her to it.  The church is a lovely thing with the extremely unusual feature of a freestanding belfry, across the road on the edge of Jaro Plaza.  Jaro also has a couple fine examples of sugar baron houses.  Before the sugar industry moved two islands away to Negros Island, Panay was one of the major sugar producers of the Philippines.  The industry generated a lot of wealth, as successful businesses are wont to do, and when families get rich they tend to build fancy houses.  The sugar baron house near Jaro Cathedral has never been renovated, more's the pity, but even in its state of genteel dilapidation it's possible to see what a fine piece of domestic architecture it was back in the day.  I hope the municipality finds the means to restore it to its former glory.  Here are some pics:
The other important historical area of the city is called Molo, beside the river that runs through town with a fine walkway on both sides known as The Esplanade.  It's a great place to take the air of an evening along the riverside.  On the north side of the river across from Molo is the happening area known as Smallville with a host of restaurants and cafes of all descriptions.  It's a popular place for youngsters on the weekends, but even old folks like Yours Truly are known to frequent the place during the week without dampening the festivities to any noticeable degree.  A walk in the area will always take me to Molo, though, because my favorite church is there together with the excellent Molo Mansion, a restored sugar baron house that has a native craft store called Kultura in its innards.  It's a fantastic building with some excellent open-air cafes on the grounds that make it a perfect place to hang out for a while.  Here are a few pics:
When I go out on the motorbike I usually head west because that's the direction in which there are mountains.  The environs of the city are as flat as a pancake.  It's great for growing rice, that point must be conceded, but in the way of landscape it's not the most exciting thing in the world.  There are a few surprises in store as you poke about, such as a good sized mosque sitting off to the side of a municipality called Pavia, a bit north of the city.  I assumed the Muslim population was not spread out over the country from its stronghold on Mindanao, the southernmost island, to a degree that would justify a mosque of this size.  Just goes to show how much I know …  The flat landscape makes for easy motorbike driving, but after a few times of wandering the backroads north of the city along the coast I decided to abandon the idea because I don't need any more practice driving a motorbike.  I'm after something to look at other than the road in front of me.  This gives you an idea:
If you head northwest of the city you'll end up at the mountains in Bucari, about which I've written a separate post.  If you head directly west you're on your way to Antique province where the major mountain chain on Panay Island is located.  If I had a car I'd be over there much more often, but it's quite a schlog on a motorbike and if the weather doesn't cooperate you're in for a good soaking before you reach cover.  Consequently, my travels have rarely taken me as far afield as the mountains of Antique despite their great attractiveness.  There's also a lamentable lack of tourist infrastructure in Antique that creates problems for the haphazard traveller.  None of the places to stay lists in online booking services, so it's the kind of place for locals or adventurous backpackers, not for the staid older set to which I now belong with its taste for predictability and creature comforts.  There's a favorite run I make when the weather is good.  It takes about two hours to reach the westernmost point of the journey where I can have a lovely lunch and enjoy the sea views, then I wend my way home stopping at any number of pleasant sights along the way.  Here's what it looks like on the map: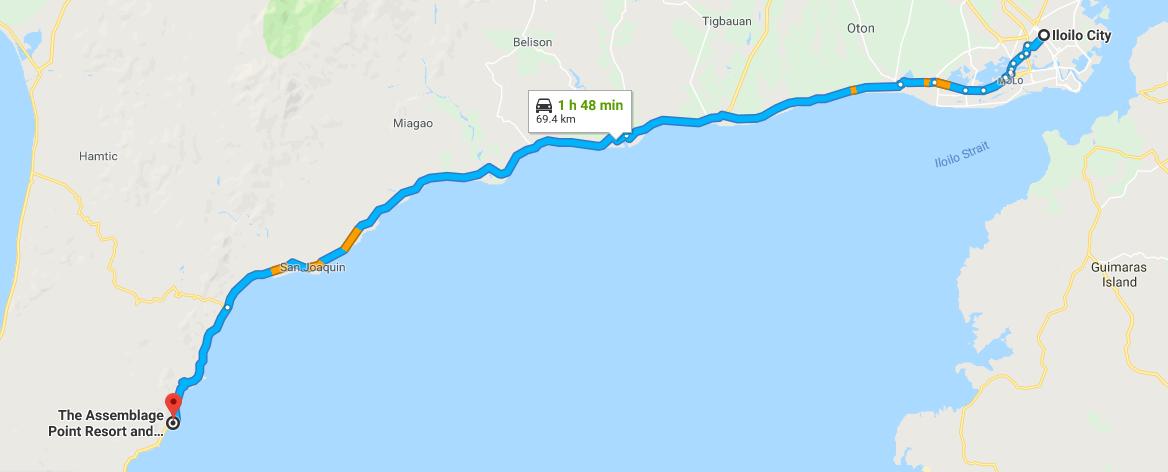 My destination is the Assemblage Point Resort, about which I've written a separate post.  The restaurant there is my ideal of tropical dining at its best because it's open to the sea on one side so you can sit and look out over the ocean while you chomp.  Perfect.  As you look at the map you see the names of the towns up off the coastline but the towns are actually very near the coast.  Another favorite thing of mine about this route is that each of the towns has a historic church.  The church in Miagao is a UNESCO World Heritage Site, about which I've written a separate post.  The church at Guimbal is equally dear to my heart because of its picturesque setting very near the water.  When you drive into town you see it standing against the backdrop of the sea with its single tower jutting up into the blue sky.  It's a lovely thing that doesn't get the attention in guidebooks it deserves.
The other favorite thing of mine about this trip is the sight of mountains looming ever larger as you go westward.  When you reach Miagao they're almost within touching distance.  My heart always leaps up a bit when I see the hills swell in the distance.  I'm not a flatlander, not by any stretch of the imagination.  I grew up around mountains and a flat landscape leaves me feeling that something's been overlooked.  Here are some pics to give an ideal of the landscape and the town of Miagao:
The town is a bustling place and I sometimes wander in the public market a bit south from the church because it's without doubt one of the most interesting on the entire island.  It's absolutely HUGE for a town the size of Miagao.  I've been to the main market in Iloilo many times and the public market in Miagao has it beat hands down, no question about it.  The reason a town of such modest size has so huge a public market remains a mystery to me.  "Shop till you drop" must be the town motto, that's the only explanation I can think of.
The pics in the second column have a few stories.  The second one down of the fancy house is what's called an "OFW Palace" here.  OFW stands for Overseas Foreign Worker — a Filipino who's working abroad and sending money home to the family.  When you drive into Miagao there is an absolutely fantastical and alarmingly large OFW house on the right side of the road.  It's the Filipino equivalent of one of Ludwig of Bavaria's extravaganzas like Neuschwanstein or Linderhof.  Somebody's pulling down a good salary somewhere in the world and sending it back to the Miagao to fund the folly.  I knew people like that when I lived in Saudi Arabia, one of whom had been in Saudi for 25 years and was waiting to retire.  No doubt he had an OFW palace of his own somewhere in the country.  I met one elderly man here who had worked in the States for over 30 years and came back to retire just a couple years ago.  He has a huge house crammed absolutely to the gills with stuff — furniture, multiple silver coffee services sitting on the sideboards, Chinese cupboards inlaid with mother of pearl — it was like being in a badly disorganized home furnishings shop owned by a person with too much money and a complete absence of taste.  Such things spook me because I've always been a minimalist.  Living in the middle of all that stuff would feel to me like having the weight of the world on my shoulders.  No thanks.
The last picture in Column 2 shows a lackluster beach of southern Panay Island.  No blinding white sand.  No plam trees swaying in the breeze.  it's hardly what you expect in a tropical country composed of over 7,000 islands.  The standard issue is, of course, the white coral sand you find in the tourist hotspots of the country like Boracay and Siargao.  None of that here on the southern end of Panay Island, sorry to report.  But you're in luck, you only need to hop on a boat in Iloilo and spend 15 minutes getting to Guimaras Island right next door, which has beaches as lovely and white as you please.
After reaching my destination past San Joaquin it's time for lunch usually, and I spend a good while hanging out dawdling over my food because the place and the view are so lovely.  When I head back I usually stop in San Joaquin to visit the Garin Farm, an astonishing amalgam of working farm and pilgrimage site.  I've never come across that combination before, so thumbs up to the creativity of the owners for carving out a completely unique niche for their business.  Walking up the hill to the pilgrimage site finds Yours Truly headed for the restaurant with views out over the coast and the sea, not climbing the steps to the symphony of white angelic figures sitting at the top.  I'm not to that manor born and I get enough exercise just climbing the hill let alone all those steps, thanks very much.  Here are some pics:
After dawdling a good while at Garin Farm it's time to fire up the motorbike and get back to town before evening falls.  I've written a separate post about driving in the Philippines so I'll not go on about it here, but trust me, there's no such thing as a Sunday drive on Philippine roads.  You watch them and what happens on them like a hawk lest you find yourself bucked off your bronco from a pothole or run into the ditch by somebody overtaking with oncoming traffic.  It's not for the fainthearted.  So when I finally get back to the city I need fortification, which I happily take at the Cafe Panay.  It used to be in the back of the Molo Mansion and was a delightful small space with very good coffee and lovely pastries.  It's moved now to Megaworld — which is good for me because I can walk to it in 15 minutes.  Some of its charm had to be sacrificed to the cause of modernity, however.  It's now in a fancy new line of shops in the Festive Walk colonnade and it's all toney now with posh furniture and wifi and all the other things you'd expect from a cafe on the cutting edge.  My first visit in its old location at the Molo Mansion brought laughter to my lips because of a sign posted for the edification of the customers.  It was a beautifully Luddite message that I thought good advice for all of us these days as we become ever more enslaved to our mobile devices.  I close with this suggestion from the Cafe Panay and hope you'll take it to heart.  It's a good reminder to stop and smell the roses, which is what I always try to do on my trips out and about in Iloilo and its environs.