September 2019
Here we go with the second half of the post about early Baroque period composers who should be household names but through no fault of their own have been shunted to the sidelines of musical history and modern appreciation.  If I let myself go — and I won't, don't worry — this would be the place to go on a tirade about how skewed perception of the Baroque period is compared to the reality of the musical life led on the ground.  There are ton, TONS I say, of excellent composers who never made it into the canon for one reason or another.  It stinks to high heaven and I'll go to my grave protesting loudly that things should be otherwise.
But let's put that sorry business aside and concentrate on some of the composers who stand out as exceptional in their period, the 17th century.  I've only chosen 10 of them for this two-part post — the number could easily have risen to triple that amount.  Keeping myself within the bounds of good taste makes the lower end of the double digits obligatory, however, so I've chosen at random composers I consider superstars without any intent to elevate them above other composers not named here.  There could parts 3 and 4 and 5 and … We've been richly blessed by our compositional forebears from the Early Baroque and there are lots of folks at the party.  Let's have a look at the five for this second half of my list.  I'm picking up the alphabetical order I left off in Part 1 — I hope you're duly impressed. 🙂

Michelangelo Falvetti (Italian, 1642-1695)
Having been bowled over by two works of Falvetti, one of them a videorecording of the oratorio Nabucco, I'm appalled to find his Wikipedia page (here) so meagre and pinched that it can be reproduced in its entirety in one measly paragraph.  Harumph.  Here's the bio:
Falvetti was born in Melicuccà in Calabria, Kingdom of Naples on December 25, 1642, but spent most of his life and musical career in the Kingdom of Sicily. In 1670, he became Maestro di cappella in Palermo, and in 1678 founded the 'Unione dei Musici' in that city.[1] In or around 1682 he moved to Messina where he was named Maestro di Cappella del Senato di Messina. Falvetti died in Messina in 1693.
It reads like an accident report.  Just the facts, ma'am.  So let's turn to the webpage of Cappella Mediterranea (here), the group who performs these wonders, for some flesh on those biographical bones:
In the last five years, few works have created such emotion in the public as the rediscovery of Michelangelo Falvetti's Diluvio Universale (1642-1692). The incredible beauty of the music of this unfairly forgotten composer has touched all those who heard it.

Encouraged by this success, the brilliant conductor Leonardo García Alarcón decided to create another previously unseen work composed in 1683 by Michelangelo Falvetti for the Messina cathedral: Nabucco. Heralding Giuseppe Verdi's first masterpiece written 130 years later, Falvetti's Nabucco is halfway between a historical oratorio and a drama per musica. One of its great figures is the King of Babylon, Nebuchadnezzar who invades Babylon and deports its population. One could read this Nabucco as a political tool of the Sicilians' resistance to Spanish oppression.

Falvetti's rich and moving music in Diluvio Universale is constantly equaled and even surpassed in Nabucco. The introduction, which evokes the river Euphrates' course, takes the listener into a musical experience, where rich baroque instruments (harp, theorbo) are heard alongside the oriental sounds of the ney and the kaval (oblique flutes), of the duduk (a double reed instrument like the oboe) and Iranian percussions. The magnificent seven voices chorales are one of the examples of this technical and harmonic complexity, which can submerge the listener. Leonardo García Alarcón's engagement enables the voices to deploy fully, the people of Israel's vengeful chorales thunder, while soloists' complaints worthy of Monteverdi move to tears … As in Elena by Cavalli revealed last year and shown at the Aix-en-Provence Festival and then in Versailles with exceptional success, Leonardo García Alarcón's talent and the complete engagement of his interpreters (intense choir and dazzling soloists), masterfully serve the rich and contrasted, subtle and sensuous score of Nabucco, which revives this drama as a true sacred opera!
Now that's more like it.  Granted, there's a little marketing going on, but the sense of excitement conveyed fits the music to a T.  The first time I heard Nabucco I could scarcely believe my ears.  Alarcón pushes the sonic envelope considerably with his use of South American instruments in the ensemble, but the vocal lines are the primary agent of attention-grabbing.  They have such a wonderful fusion of melody and agility that they take one's breath away.  That was my reaction to them, in any case.  I suspect it might be yours, too, if you're as fond of early Baroque music as I am.
The excitement is echoed in a review of Il Diluvio universale by Lindsay Kemp in Gramophone (webpage here):
Michelangelo Falvetti, maestro di cappella at Messina Cathedral during the 1680s, is almost as obscure a figure as you can get in these Baroque-hungry days. Yet this disc is not just some worthy exhumation but the rehabilitation of a composition bursting with imagination and gripping drama. Frankly, it is hard to believe it has lain unheard for so long – I even spent a while wondering if it was real.
Amen to that.  Why, then, have we not heard anything about Falvetti before this late date?  Because we don't keep track as a civilization of our stuff, that's why.  We're enormous slatterns about cultural housekeeping.  I suppose that circumstance shouldn't surprise me, given the state the world is in, but goodness sake, it's not rocket science and such things matter.  They're the cultural bedrock of humanity.  And as I said in another post, everything counts.  The works of Falvetti are as important in their own way as the works of the great philosophers and scientists of the period.  It's unconscionable that Falvetti's music should moulder in some archive waiting for someone like Alarcón to bring it back to the life it deserves and to the appreciative audiences it draws because of its great beauty.  Falvetti's case can be multiplied by the hundreds.  It's enough to take the curl out of your perm if you think about it.
There, I've had my little rant and now I feel better.  Going off at the mouth does nothing to change the situation, unfortunately.  I'm sitting here typing away in an effort to do my little bit to help get word out about Falvetti and the other composers in my list.  They've suffered neglect for far too long.  It's time to give them the credit they deserve as paragons of accomplishment in the musical life of western civilization.
Capella Mediterranea under Alarcón (an Argentinian import to the European musical scene, like Maria Cristina Kiehr) has the monopoly on performances of Falvetti's music.  I own the recording of Il Diluvio universale.  Classical music CDs by composers who aren't in the canon never stay in print very long and soon wind up in the secondary market.  Another harumph.  You can still lay hands on both Il Diluvio universale and Nabucco through the Amazon marketplace.
There's a special treat in store for you on YouTube: a complete televised performance of Nabucco by Cappella Mediterranea with excellent sound quality, viewable here.  Don't miss it, it's absolutely fantastic.
There are five other major works by Falvetti that haven't yet been recorded.  Keep those fingers crossed that every single one of them will hit the marketplace.  I'll be poised with my credit card handy to nab them as soon as they appear, trust me.

Johann Rosenmüller (German, 1619-1684)
Rosenmüller is in my pantheon of all-time greats, just to let you know in the interests of transparency.  If I were writing the music history books, he'd figure at the tippy top of the list of composers of the Early Baroque.  I first came to know his music about 20 years ago through excellent recordings by Cantus Cölln and Musica Fiata.  He's been a constant companion ever since.
His life story is a bit of mess, to be honest.  He started out in Leipzig as a musician and quickly gained fame.  While still a young man he was set to become Kantor of the Nicolaikirche.  But there was some dodgy business with choir boys who kissed and then told and that was the end of that.  Rosenmüller managed to escape from prison and fled to Italy where he ended up working as a musician at St. Mark's in Venice, which just goes to show that he knew his stuff.  You don't get hired at one of the most famous musical establishments of the time in Europe if you're a slouch.  He spent some 24 years in Italy writing glorious music.  In his later years he came into contact with the Duke of Braunschweig-Lüneburg who hired him as his music director and brought him to little old Wolfenbüttel in 1682.  Two years later he died there and is buried in the Johanniskirche.  I lived in Wolfenbüttel for almost two years and practiced organ in the Johanniskirche.  I walked past Rosenmüller's gravestone every time I went up into the organ loft.  I'm glad he was dead when I practiced.  I never heard anybody turning over in his grave down below but I'm sure he would have stopped his ears had he been alive.
As a composer he's one of a kind.  His music is so inventive, so sonorous, so luscious to the ear that you can hardly believe it when you first hear it.  He had an excellent musical upbringing in Germany and to that he added all the sonic splendor of Venice in the 17th century.  The combination is ravishing.  To add to the mix he's a composer who speaks directly from the heart, baring his soul in his music without any hesitation.  Yes, he's clever and yes, he knows his stuff backward and forward, but the emotion he expresses in his music is deep and complex, as his emotional experience during his life must have been.  For that reason I've found Rosenmüller to be like certain authors I return to frequently in order to spend time with them because of their human quality, like dear friends.  I suppose it would be possible to isolate particular passages where that sense comes through especially clearly — I'm thinking of the section "Quia respexit" from his Magnificat in C minor — but that seems rather like dissecting one's pet canary.  I know there are bold things going on harmonically in such places, but I'm not pitched on laying bare the full mechanism of his genius.  I'm willing to take his word for it as I listen to the music.
I own six full recordings of music by Rosenmüller and three others that contain works of his.  One of the anthologized works is on a CD done by the violin band The King's Noise with soprano Ellen Hargis, "Herr, Strafe mich nicht in Deinem Zorn" (= Lord, Punish Me Not in Thy Wrath).  The first time I heard it I stopped dead in my tracks and fought back the tears.  The mechanics of putting life experience and feeling into music involves much more than knowing the rules of counterpoint and being able to come up with a good tune.  It's something one is born with, of that I'm sure, and the born musician Rosenmüller was comes to full expression in this short, simple piece from early in his career.  It's one of those pieces that remain whole in memory.  All I have to do is think about it and I can hear it playing in my head.
The major recordings are by German groups of major international note.  They engage the large vocal works written in Italy, concerted motets of great complexity and wondrous inventiveness.  If asked to name a favorite I'd probably pick the first one I bought, just because it's been with me the longest — the Vespro della Beate Virgine performed by Cantus Cölln under the direction of Konrad Junghänel and issued on the Harmonia Mundi label.  Here's the CD recto: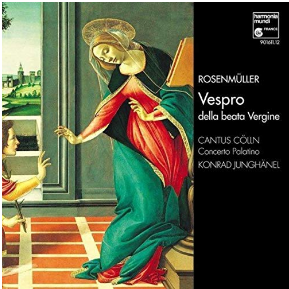 One my favorite concerted motets by Rosenmüller is Laetatus Sum on this recording.  It's a full 15 minutes long, which gives some idea of its complexity.  Structurally it's in the same vein as Francesco Cavalli's motets — episodic with melodically and harmonically bound units, one of which serves as a ritornello, punctuated by chordal sections at slower tempi.  The melodic, rhythmic and contrapuntal inventiveness goes off in my head like fireworks.  I stand before such works dumbstruck at how people can write such music.  Marc-Antoine Charpentier does that to me, too.  It will forever remain beyond my understanding how human beings can create such wonders.  I'm glad they can, but don't ask me how it's done.  No clue.  And no chance in hell I could do anything of the sort myself.
There's a fair amount of Rosenmüller's music available in the marketplace, I'm happy to report.  Amazon has several recordings still available and there are others listed in European services like ArkivMusik.  My Rosenmüller recordings are like my copy of Francesco Correa de Arauxo's Facultad orgánica: don't leave home without it.  I keep two backups of the MP3 rips just to be absolutely sure nothing bad happens to them.  If you're not familiar with Rosenmüller's music then you have a treat of the first order in store.  RUN, don't walk, to the nearest recording you can lay hands on.  It's that good, trust me.

Johann Hermann Schein (German, 1586-1630)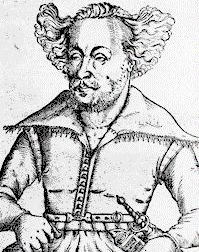 Yeah, I know, the portrait looks kinda goofy.  There wasn't Instagram back in the day so I'm stuck with what I can get, sorry.  I'm glad the hairstyle didn't survive the 17th century — as glad as I am that Schein's music did survive it to bring us its delights in the 21st century.
His biography is not complicated.  Born in the Erzgebirge, bordering what is now the Czech Republic, he moved to Leipzig early and remained there for the rest of his life.  His Wikipedia page (here) informs us that "he was afflicted with poor health, and was not to live a happy or long life. His wife died in childbirth; four of his five children died in infancy; he died at age 44, having suffered from tuberculosis, gout, scurvy, and a kidney disorder."  Dang.  School of hard knocks or what.  It's amazing that wrote so much music, let alone wonderful music.  Obviously he had the will of a titan with regard to the exercise of his gifts, lucky for us.
The Wikipedia article elaborates on his importance in the period quite adequately, so I'll quote rather than make stuff up myself:
Schein was one of the first to absorb the innovations of the Italian Baroque—monody, the concertato style, figured bass—and use them effectively in a German Lutheran context. While Schütz made more than one trip to Italy, Schein apparently spent his entire life in Germany, making his grasp of the Italianate style all the more remarkable. His early concertato music seems to have been modeled on Lodovico Grossi da Viadana's Cento concerti ecclesiastici, which was available in an edition prepared in Germany.

Unlike Schütz, who concentrated mainly on sacred music (although it must be borne in mind that at least two operas composed by him, among other secular works, have been lost), Schein wrote sacred and secular music in approximately equal quantities, and almost all of it was vocal. In his secular vocal music he wrote all of his own texts. Throughout his life he published alternating collections of sacred and secular music, in accordance with an intention he stated early on — in the preface to the Banchetto musicale — to publish alternately music for use in worship and social gatherings. The contrast between the two kinds of music can be quite extreme. While some of his sacred music uses the most sophisticated techniques of the Italian madrigal for a devotional purpose, several of his secular collections include such things as drinking songs of a surprising simplicity and humor. Some of his works attain an expressive intensity matched in Germany only by those of Schütz, for example the spectacular Fontana d'Israel or Israel's Brünnlein (1623), in which Schein declared his intent to exhaust the possibilities of German word-painting "in the style of the Italian madrigal."
Schein seems to me the epitome of the court composer.  He's official, in other words, not baring his soul because of the individual he is.  His individuality is subsumed under the office he discharges and his sentiments are entirely in line with what is given official approval in such matters.  He brings his intelligence and the mastery of his craft to bear on creating works that fulfill all the functions of the social order he inhabited.  There are no loose ends sticking out anywhere.  He's as slick as slick can get.
I admire that kind of ability and give him two thumbs up for it.  The great attraction I have to his music comes from his use of sonority.  He absorbed the Italian polychoral sonorities of the Venetian school to such a degree they seem natural to him.  While his harmonic structures may not be bold in any special way, they are elegant in the extreme and always satisfy like the first sip of a fine wine.  You taste and you know you've got some the good stuff.  The really good stuff.  It's that way with Schein's music.  A few bars into it and you know you've struck gold.
And speaking of Israelis Brünnlein that's exactly the work I want to mention.  I have the recording done by Rheinische Kantorei, which appears to be out of print now (no surprise, since it's long in the tooth):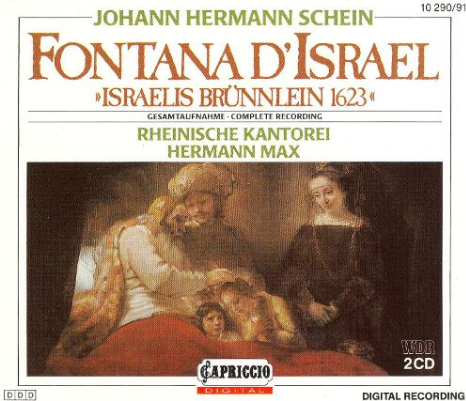 It's a 2-CD set that includes works by later composers (including C.P.E. Bach).  The quality is outstanding, as one expects from Hermann Max.  There are several different recordings in the marketplace currently, including one by Philippe Herreweghe.  I'd like to bring your attention to a special treat available on YouTube (here), a televised concert by Gli Angeli of the entire work.  The director is Stephen McCloud, whose bass voice is among my favorites, and one of the sopranos is the inimitable Hana Blažíková of the Czech Republic.  It's a wonderful performance of the entire work.  Definitely worth a listen.
I mentioned sonority as one of Schein's strong points.  The Max Hermann recording of Israelis Brünnlein does full justice to the sonic potentials of Schein's music.  The instrumental parts are lavish in some of the pieces and that's exactly how they should be — just as is the case for the early concerted motets of Heinrich Schütz when he was writing more like an Italian than a German.  If you manage to lay hands on Max's recording you'll see what I mean.

Johann Schelle (German, 1648-1701)
There appears to be a musical anomaly in the region of Germany known as Saxony (Sachsen).  It produced flocks of excellent musicians and composers in the Baroque period.  Interstellar beaming from the Planet of Music?  Some rare chemical compound in the water?  Who knows.  They were thick on the ground, in any event, these composers at the top of their game, and Johann Schelle was among them although to judge by his repute these days you'd think he was a nobody.
He was somebody, definitely a somebody.  You don't become Kantor of the Thomaskirche in Leipzig without being a somebody and Schelle held that position for 24 years.  So to the history books who heap neglect upon him I say, "Blast and be damned."  They've got it all wrong.  The real story comes out in the Wikipedia page on Schelle (here):
When his former teacher Sebastian Knüpfer died, Schelle succeeded him as Kantor of the Thomaskirche in Leipzig, a post later held by J.S. Bach. He obtained the post on January 31, 1677, and held it until his death. His appointment was made against the wishes of the city mayor, who remained antagonistic to him and the changes he introduced in the musical content of services. The matter came to a head when Schelle replaced the Latin compositions written by Italian masters with music to German texts, especially cantatas. When the city council finally took Schelle's side on the problem Schelle started the practice of introducing into the Protestant liturgy in Leipzig not only the Gospel cantata to German texts but later the chorale cantata, too. This remains one of his most important achievements.
So not only was he an excellent composer, he knew how to play the political game.  Good on him.
Schelle was born in Geising in the Erzgebirge (Ore Mountains), the same area Schein came from.  While in Dresden he was a student of Heinrich Schütz, so he had instruction from two very fine composers — I have a recording of some of Sebastian Knüpfer's music and it's wonderful stuff.  Schelle rose to the level of his teachers as a composer, the evidence we find in his oeuvre makes that abundantly clear.  As for the oeuvre itself, Wikipedia transmits this horrifying news: "Over 200 compositions by Schelle are listed, but only 47 survive. During his life the only work printed was Christus ist des Gesetzes Ende, Leipzig 1684."  No, I won't go off yet again on my tirade about us humans being incapable of taking care of our stuff — our good stuff — so that it doesn't go the way of all flesh.  There's no reason on God's green earth that all 200 known compositions by Schelle couldn't have been transmitted to our own day, but hey, obviously people don't take care of their stuff.  If they did, we'd have all of Schelle's works to enjoy in the 21st century.  But I'm not bitter.  Much.  🙂
Given the abject neglect visited upon our champion from Geising it should come as no wonder that there are precious few recordings of his music to be had.  The CD I own is the Actus Musicus auf Wey-Nachten (= Christmas Cantata), done together with the Weihnachtshistorie by Schütz, performed by the Schütz Akademie directed by Howard Arman.  It's a wonderful recording, still available through Amazon.  I see there are a couple other recordings of the work now available including one by Musica Fiata under Roland Wilson with a star-studded cast of vocal soloists including countertenor Andreas Scholl and bass Harry van der Kamp.  Can't go wrong with a crew like that.  I'm partial to my older recording by Arman because it has wonderfully rustic instruments (bombardes or some such raucous double-reeds) in the instrumental intermezzi.  It's so rustic you can almost smell the hay in the manger and the anim… … Well, let's not get too organic here.  You get the idea.
There's one section of the work that I simply can't get enough of.  It's an arioso, "Fürchtet euch nicht," when the angel says to the shepherds, "Fear not, for I bring you glad tidings."  It's scored for soprano, sackbut (i.e. trombone) and basso continuo.  The interplay of the soprano and the bass line of the sackbut is too charming for words and the sense of joy and hope the music conveys is wonderful.  Schelle must have been a deeply religious man, he captures the meaning of Christmas at its deepest level for the faithful.  What a treat.
I have other recordings of Schelle's music in anthology, which I'll gladly take wherever I can find them.  YouTube has several tracks available that appear on anthology recordings of music from the period.  A search on Schelle's name will bring up treats for your ears, so give it a go and you'll be rewarded with some very fine music for your delectation.

Christoph Straus (Austrian, 1575-1631)
It's something of a misnomer to call Straus an Austrian because there wasn't any Austria in his time period, there was just the Habsburg Empire.  But it sounds odd to call him a Habsburgian — certainly not a name I'd be happy to find affixed to me — so Austrian it is.  The degree of neglect he suffers can be judged from the paltry showing of his Wikipedia article, which I reproduce here in toto:
Christoph Straus (1575–1631) was an Austrian composer, cantor and organist. His church music includes polyphonic pieces and polychoral Masses, including a notable Requiem for high and low choirs. Although his textures were, by current standards, old-fashioned at the time, his word painting proves his acquaintance with the newest Italian music. He was employed as Court composer by Emperor Ferdinand II from 1616 to 1620 and rose to the post of Kapellmeister in St Stephen's Cathedral. He wrote 36 motets (published in 1613) and 16 surviving masses (1631). His later compositions require a wide variety of orchestral colours.
I'm only modestly edified.  For much more ample assessment we turn to a review by David Vernier on classicstoday.com (webpage here):
Listeners familiar with early-17th century Venetian music will immediately recognize in the motets of Viennese composer Christoph Strauss stylistic similarities with Gabrieli–particularly the antiphonal brass writing, but also the rich textures in the vocal scoring and the bursts of florid ornamentation. But you'll be surprised to discover that this virtually unknown master created some of the more superbly crafted and profoundly beautiful sacred works of the early Baroque. The pieces performed here–11 motets and a mass–are not of minor interest in any respect. They show the work of a mature composer with impressive facility for melody, harmonic invention, and for the intricacies of vocal and instrumental part-writing. Strauss employs such variety in using his relatively small numbers of singers and brass instruments that it's easy to believe we're listening to a much larger ensemble. The fullness of the homophonic sections–not only due to the writing but also to the exceptional quality of the brass playing–contrasts perfectly with frequently lighter-textured polyphonic sections. The most dramatic moments are truly stunning; the more delicately expressive vocal passages are so tender and lovely and perfectly sung, you wish they were longer. This recording reminds us not only that there is much music yet to be re-discovered, but also of the high standard of performance we enjoy today, even from ensembles and soloists that aren't the most famous and most recorded.
Now we're getting somewhere.  I second every positive estimation of Straus's music made above.  It's astonishing music of a temperament and sensibility I'm at pains to name as similar to any other composer I know — not only from the Early Baroque, but from the entirety of the Baroque period.
I've owned the recording of his music by Concerto Palatino on the Harmonia Mundi label for a good long while.  I'm not even going to check to see if it's available in the marketplace — fingers crossed it is, but hope does not rise within me.  Your best bet is to head over to YouTube where you can hear the entire recording here.  As is the case with other gems from my CD collection, I have only the MP3 rip I made, not the liner notes.  The notes contain much useful biographical information about Straus as well as the full Latin texts of the motets on the recording.  I'd be much more useful to you if I had the notes in front of me, but the exigencies of global nomadism leave me in an electronic and hence paperless state.  Drat.
The harmonic world Straus creates is extremely unusual.  Some of the harmonic progressions in the motets recorded by Concerto Palatino leave your eyebrows up near your hairline and your lips muttering, "OMG, how did he do that??"  You chart harmonic progressions using Roman numerals to indicate relation to the home base key.  Baroque music usually sticks fairly close to home base in the early period — but Straus busts out of that box big time.  I could no more chart his harmonic progressions on hearing than fly to the moon.  I'd have to study the score.  The effect is curiously disorienting and exhilarating at the same time.  It's the hallmark of Straus's music for me, that sense of being knocked off center and excited at the same time.  I guess that makes him sort of like the Daredevil Roller Coaster of the Early Baroque, but everything progresses with perfect decorum, not to worry.  You won't toss your cookies or lose your cell phone on one of the big curves.  It's all good.
Straus would be the perfect composer to launch me on yet another tirade about the evils of canon formation and the disfigurations it works on our awareness and appreciation of the musical life of the period as it actually happened.  But we've been there and done that and you have the T-shirt.  So I'll just grumble under my breath for a bit while you talk amongst yourselves.  I'm too verklempt. 🙂

Lodovico Grossi da Viadana (Italian, 1560-1627)
Quite apart from being the composer of excellent and heartwarming music, Viadana figures into music history in an important, nay a fundamental way.  Here's the scoop from his Wikipedia page (here):
Viadana is important in the development of the early Baroque technique of basso continuo, and its notational method, known as figured bass. While he did not invent the method—figured basses occur in published sources from at least as early as 1597 (Williams and Ledbetter 2001)—he was the first to use it in a widely distributed collection of sacred music (Cento concerti con il basso continuo), which he published in Venice in 1602. Agostino Agazzari in 1607 published a treatise describing how to interpret the new figured bass, though it is clear that many performers had by this time already learned the new method, at least in the most progressive musical centers in Italy.
One of the Founding Fathers of the Baroque style, in the literal as well as the figurative sense, since Viadana was a priest:
He was born in Viadana, a town in the province of Mantua (Italy). According to a document dating from about 150 years after his death, he was a member of the Grossi family but took the name of his birth city, Viadana, when he entered the order of the Minor Observants prior to 1588 (Mompellio 2001). Though there is no contemporary evidence, it has been claimed that he studied with Costanzo Porta (Mompellio 2001), becoming choirmaster at the cathedral in Mantua by 1594. In 1597 he went to Rome, and in 1602 he became choirmaster at the cathedral of San Luca in Mantua. He held a succession of posts at various cathedrals in Italy, including Concordia (near Venice), and Fano, on the east coast of Italy, where he was maestro di cappella from 1610 to 1612 (Mompellio 2001). For three years, from 1614 to 1617, he held a position in his religious order which covered the entire province of Bologna (including Ferrara, Mantua and Piacenza). By 1623 he had moved to Busseto, and later he worked at the convent of Santa Andrea, in Gualtieri, near Parma. He died in Gualtieri (Mompellio 2001).
In a certain sense he reminds of me Adriano Banchieri, without the goofy side Banchieri had.  Viadana is equally at his compositional ease writing instrumental canzone or religious music for voice.  I own a recording of his Sinfonie musicali performed by the Accademia Strumentale Italiana directed by Alberto Rasi.  The recording is superlative and the sonic quality of the instrumentation used for the various canzone is spot-on.  It captures the sense of the pieces beautifully.  It's still available in the marketplace, here's a pic of the CD recto: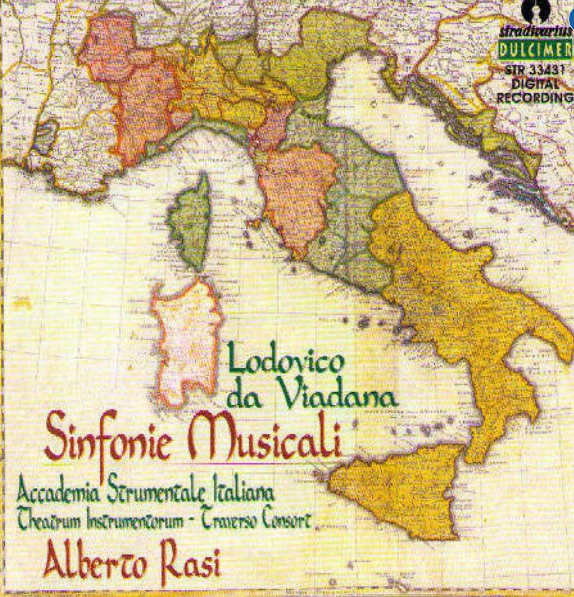 The religious music of Viadana is no less impressive, albeit very different in character.  The Sinfonie musicali bring to mind a picnic on the lawn of the Villa Rotonda in Vicenza, with cheese and wine and fruit and the musicians playing from the terraces.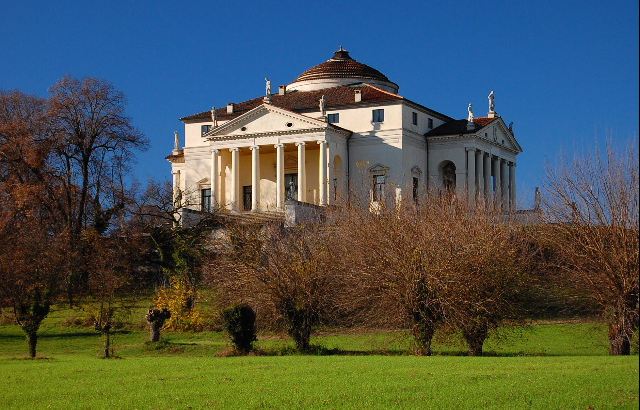 The religious music, on the other hand, brings to mind the interior of a cathedral, let's say San Petronio in Bologna, with incense rising from the censers and the sound of plainchant wafting through the air.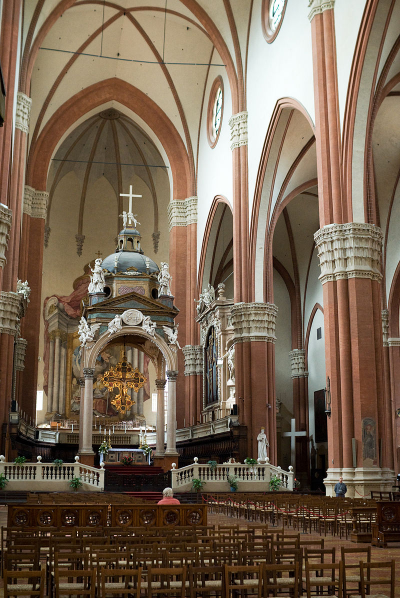 Since Viadana was a priest he takes his religious music seriously and it shows.  The music is heartfelt and expressive but restrained, as befits its setting and purpose.  Once in a while a figuration creeps in that seems to have slipped its moorings in the Sinfonie musicali, but never in a manner that could be called untoward.  I think Viadana was a sunny personality and it's just his internal light shining on the eccelsiastical goings on in the same way it shines on the secular pieces of the Sinfonie.
I own two recordings of Viadana's music, one the recording mentioned above, the second a recording of religious works mounted in a vesper service and called Vespri di San Luca.  It's still available on Amazon, thank goodness.  In the setting of Beatus Vir there's a duet for bass and sackbut (trombone) that I find enormously touching.  It's on the text from verses 6 and 7 of the psalm, "In memoria aeterna erit iustus, ab auditione mala non timebit."  The melody is lovely and the voice and instrument interwine like spirals of incense smoke rising from an altar.  I don't know if Viadana intended to capture the sense of ease the text conveys — the sense of being secure from harm, protected at the level of beingness.  That's exactly the sense the music conveys IMHO.  It's a wonderful piece among the wonderful music of the psalm settings on the recording.
There's a good selection of tracks by Viadana on YouTube, so if you have trouble getting your hands on recordings you can always have a listen on the Tube.  Do so, you'll be well rewarded for your efforts by the lovely music Viadana gave us to appreciate.

That's it for my survey of unsung superstars.  If after listening to their music you don't agree with me that they deserve rockstar status, I'll eat my hat.  In the meantime, listen and enjoy.  I'll be back with more heroes of the Baroque later.  The list is long and I'm not even halfway through it.  Cheers! 🙂