July 2019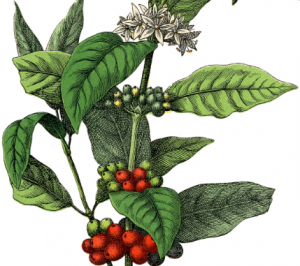 Quindío is south of Risaralda, where my base here in the Eje Cafetero is located.  It has most of the major tourist hotspots of the Triangle — the Parque del Café outside Montenegro, Panaca outside Quimbaya, Salento/Valle de Cocora to name the biggies.  It's a transitional zone from Coffee Country to the very different landscape and life of Valle del Cauca, the department of which Cali is the capital.  People here divide zones between hot (tierra caliente) and cold (tierra fría), although for North American sensibilities cold country is not to be confused with Minnesota.  Perish the thought.  In the western part of Colombia cold country includes most of the Coffee Triangle, Antioquia, Bogotá, Cundinamarca (the department surrounding Bogotá) and the department of Boyacá to the west of the capital.  I've been in the Coffee Triangle for a month now and there have only been two times I thought a sweater would be a good idea.  That's cold country for you.  Hot country can leave you looking for the AC on switch.  Agriculturally speaking cold country is for coffee and veggies of the more northerly persuasion (broccoli, cauliflower, cabbage, etc.) and hot country is all about sugar cane.
Since much of Quindío is rural I decided the best way to have a ramble through the area would be to rent a car and hit the road.  That's exactly what I did.  It's arranged in the twinkle of an eye through the online services of alkilautos.com, based in Bucaramanga, which partners with local rental agencies seamlessly so you can do all the arrangements on their website, including all the insurances and other add-ons that inevitably form part of the rental experience.  I had excellent results with the rental I got from Localiza in Pereira.  Easy peasey and in no time I was off like a shot in my Chevy Sail.
Over the course of two days I made the rounds to Armenia, the capital of Quindío Department, and to the towns of Calarcá, Montenegro, Quimbaya, Córdoba and Pijao.  I'm decidedly a tourist but the point of the trip was not to do typically touristy things.  I had no desire to do carnival rides at the Parque del Café, for example.  I was after the essence of Quindío in so far as I could identify and experience it over the course of a couple days.  Things are close enough to each other that you can cover a lot of territory in a short time so I chose two towns for each day and paid close attention to the countryside between them.  Those things are the subject of this post.  If you want the skinny on what rides there are at the Parque del Café your curiosity will be amply rewarded by the infinite accommodations of Google.  I abstained from theme parks and will likely do so in future.  At my age you have to choose your thrills, we can't be overloading the system now, can we. 🙂
My base for the two days was what's known as "finca-hotel," a hotel in the middle of a coffee farm.  The one I chose was, so I thought, on the outskirts of Armenia but turned out in reality to be on the outskirts of Calarcá.  But no matter — when you have wheels it all becomes relative.  Weather is always a dicey proposition in the Coffee Triangle and I had my good luck and my bad.  The second day started off rainy and changed to overcast with some sun in the afternoon.  Consequently the pics show a range of conditions.  You work with what you got, there's that story.  Since I'm not in the business of making tourist brochures I take the overcast skies and the wisps of cloud on the mountains as part of the gig.
I'll take things as they came, with a section on each town and the coffee farm where I stayed.  I have TONS of pics so be prepared. Because of the scope of the trip I've divided the post into two parts so I don't feel pressured to keep things under control.  Don't say I didn't warn you. 🙂
This first part will deal with Armenia, Montenegro, Quimbaya and Calarcá.  Here we go …

Armenia
The fact that Armenia is a modern city has to do with its troubled past.  It wasn't so modern until after 1999, when a massive earthquake took place, as the Wikipedia page on the city (here) informs us:
On Monday, January 25, 1999, an ML = 6.2 earthquake occurred in Quindío. The epicenter was located 17 km south of Armenia. The earthquake was one of the most devastating events to have occurred in Colombia in recent history, with an estimated 1900 casualties. The earthquake was also felt in Risaralda, Valle Del Cauca, Tolima, Antioquia, and Cundinamarca, but Armenia was the hardest-hit city. In just 15 years, the city was rebuilt, becoming one of the most visited tourist destinations in Colombia.
The reconstruction is indeed remarkable.  As you drive through the city you'd never know it was the site of such devastation 25 years ago.  When the rebuilding happened the city Powers That Be took advantage of the same situation the Marquis de Pombal had after the Lisbon earthquake in 1755: start from scratch and get it right this time.  They made the streets wide, not fit for donkey carts.  They used something of a grid system, although the pressures of the past in any Colombian city are so strong grids only work up to a point.  They did it right and it looks good.  Thumbs up.
There's an enormous amount of construction going on, mostly condominiums.  Apparently word has gotten out that Armenia is a great place to retire if you've spent your working life in Medellín or Bogotá  and want a bit of space and some peace and quiet.  I haven't heard of many expat retirees going there, although it should be a top pick for them just as it is for Colombians.  It has all the amenities one expects of a city in addition to a lower cost of living and traffic that doesn't make you want to slit your wrists — which is saying a LOT in Colombia, trust me on that one, Bridget.
I drove through Armenia several times but spent relatively little time there on the ground.  My transitoriness makes me poorly qualified to comment on its quality of life in any great detail, but my observations lead me to second the opinion of those who choose to retire there.  It's a good place to live, I'm sure.  It's easy to get out into the countryside from within the city, there are tons of malls and shops, good healthcare, what more could you want?  Since I was behind the wheel all the time I was making these observations I have no pics to support my evidence.  I only stopped when I got to the perimeter and found a place to pull over.  Here are three pics of the environs on the eastern side of the city looking toward Calarcá:
From the spot where those pics were taken you can be in the city center in 10 minutes (by car).  What's not to like about that, especially if you've been living all your working life in Bogotá where getting from a place like the one in the pics to the city center would probably take ten hours?  Armenia is the most like an American city I've seen anywhere in the Coffee Triangle.  Although we Americans have our faults (and lately how they pile up …) we do know how to build a city that works.  Armenia works for the simple reason that it's built to work better than the average Colombian city.  The 1999 earthquake afforded that opportunity and the city took it.  It's all the better for it now.
I specifically decided not to base myself in Armenia because with a car I had a golden opportunity to get outside a city, something I've not been able to do often from my base in Pereira.  Renting a car is not the breezy affair in Colombia it is in the States.  The process is completely equivalent — go online, book it, show up and get the keys.  But parking is impossible in Colombian cities and there's a system known as "pico y placa" ("peak and plate") that prohibits cars into the main part of a city by day of the week based on the last digit of the license plate.  Drop those eyebrows, dears, they're heading for the hairline LOL.  Yes, it's what you do if your city's incapable of handling the massive increase of traffic in modern times because its transit infrastructure was built for donkey carts.  It applies to rental cars driven by tourists, as well, please take note — using the "I'm just a dumb foreigner" excuse will get you nowhere.  If you get caught driving in the wrong place on the wrong day you get a ticket and a fine.  Welcome to Colombia.
I'd planned to have a rental car most of my time in Colombia but the traffic and things like the "pico y placa" soon put paid to that notion.  When I started the trip to Armenia I picked up the car at the rental agency and IMMEDIATELY headed out of town.  Outside the red zone in cities there's no restriction on access.  So I headed out of Dodge ASAP and got into the free zone where I can go wherever I like, thank you very much.  For that reason I also chose to lodge myself outside Armenia (which also has "pico y placa") to avoid any run-ins with the law.  The idea was fantastic, I get an A+ for that part.  The finca I chose was lovely, but the road leading there made me yearn for the narrow streets of the city and pray that the undercarriage of my Chevy Sail would survive the journey.  More on that dodgy business later.
So Armenia gets a thumbs up from Yours Truly even on the brief acquaintance I had with it.  It wasn't the main event, however, so let's get out of the city and start looking at the towns, which were the meat and potatoes of the excursion.  First up: Montenegro.  I'll start with the pics and then do the yakking.

Montenegro is a lively little town.  It has nothing of the historical overtones of a place like Filandia, it's just about people living their lives in a small town way.  The town square is a jaunty place I found unexpectedly heartening.  I was there on a Monday morning and it was full of people just hanging out.  It's planted luxuriantly, as well, so it resembles a garden more than a town square in the Spanish style, all brick and stone and no place to sit.  This was like being in somebody's back yard and hanging out.  What fun!
You can see from the church in the last pic that there's no pretense about being historical — it looks like it was done in the 1980's.  The standard town square structure of Colombian settlements is present, of course — church on one side and buildings around the other three legs of the space.  The buildings are businesses, however, and they look relatively modern with regard to date of construction.  There are no painted balconies with chi-chi flowerpots hanging artfully from them.  The pic of the shop front for women's wear shows just how pitched Colombian women are on being fashionable, even if the place three doors down is busy selling pesticides or crankcase oil for tractors.  A gal's gotta keep up her mojo no matter where she lives.
The trees and shrubs of the town square seem to me the most historical elements of the lot.  There's the fancy building behind the "I [HEART] MONTENEGRO thingamabob (all the rage in the region's towns, I came to find out), but it gets drowned out by all the trees and shrubs and things climbing all over them.  The pic of the tree covered in the split-leaf philodendron is a case in point.  My being a tourist from the Bitter North is partly at play here, obviously, because seeing a philodendron that size growing outside in front of God and everybody is a Big Deal — they only live in people's houses where I come from.  All the vegetation suggests luxuriance, ease and good times.  The people seem to pick up on that vibe and carry it forward in their public life in the square.  What a nice way to spend part of the day.  The birdhouse in the form of a traditional Coffee Triangle house adds the historical element.  The good digs in town are for the birds. 🙂
Just as in Marsella you only go two blocks from the town square until you're on the edge of town looking at countryside.  Here are the pics:
When I stopped to take a pic of the door with the cat it raised its head momentarily and looked at me through slit eyes as if to say, "What you lookin' at, pal?"  I think that old saying about sleeping dogs should be amended to include our feline friends, too.  It was clear that trying to rouse kitty from his (or her) slumber would not end well.
I grew up in a small town with no noteworthy architecture and places to buy chicken feed and repair farm machinery, but we had no such cozy town square in which to hang out and chew the fat or watch life go by.  In the section on Villamaria in the Manizales post I commented that we Americans would do well to adopt that practice.  Everytime I see it going on in a town of the Coffee Triangle that opinion is confirmed.  Mind you, I'm not sure the content of the conversations would necessarily be edifying — that's quite another matter.  I suspect, coming from a small town as I do, that everybody knows everybody's business.  Colombians have a saying for it: "pueblo pequeño, infierno grande" (= "small town, big hell").  But I'm a tourist and I don't have to deal with reality, so I enjoyed the pleasant setting and carried away a sense of handsomeness and social pleasantness I'm happy to keep as an illusion whatever the truth of the situation may be.
Lest we forget that we're in Coffee Country, there's a fine mural on one of the buildings near the town square: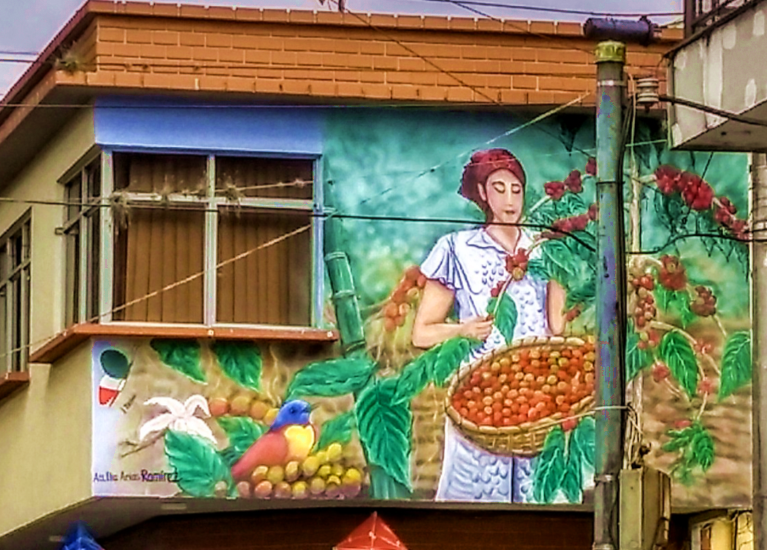 Those are coffee berries in the basket, by the way, not cherries, just saying … 🙂  What a lovely image of agricultural plenty in a place where the weather is almost always pleasant and the living is easy.  Speaking of easy living, I went to the supermarket this morning and came out loaded down with two full bags of gorgeous fruit and veggies for the princely sum of USD $8.25.  It's always summertime here and the living is always easy if you're after stunning produce.  Adding the fact that massive split-leaf philodendrons grow on the trees seems like gilding the lily, but hey, if you got it, flaunt it, right?  The Coffee Triangle has got it in spades.

Quimbaya
Quimbaya is just a bit up the road from Montenegro and has outside it another of the area's main tourist spots, Panaca, short for "Parque Nacional de la Cultura Agropecuaria" (= "National Park of Agricultural Culture").  From the descriptions I've read it sounds like a combination of county fair and medieval mystery play.  After being harangued by guides in two of the region's botanical gardens the last thing on Earth I wanted to engage was another foray into interactive instruction in breathless Spanish.  The guides invariably ask questions and wait for an answer from us ignorant lot standing there like dolts. "Do you know how many times a second a hummingbird's heart beats?"  If I did I'd be giving the tour not taking it, sugarpuss.  It's annoying beyond words.  So I gave Panaca a miss without the slightest pang of guilt.  Tra-la, tra-la, life is but a … Well, that's how the song goes, anyway.  I don't think they know that tune in Quimbaya.
Not every musician is a Mozart, not every physicist is an Einstein, and not every town in the Coffee Triangle is a paragon of its kind.  That's just how life works.  Most of us have that point brought brusquely to our attention when we get up in the morning and look in the mirror.  The same could be said of Quimbaya.  It's thoroughly itself and there's no pretending to be something it's not.  Nothing wrong with that, nothing at all — it's reality, after all.
The reality struck me as a rather down-at-heel agricultural town where Juan Valdez, after finishing his work in the fields picking Colombian Supremo for the likes of us in the USA, might well do some busking in the town square to scrape together a few extra pesos.  I say that without in any way taking as my measure of being uptown having a Starbucks on every corner and artisan bakeries on at least every other street.  I'm reminded of a comment I overheard in Durham, NC in a posh cafe in the trendy part of town (near Duke University, of course) uttered by a typical Dukie (Birckenstocks/black leggings/embroidered gauze top) who surveyed the menu with a frown on her face: "I just don't understand how people survive without Thai green curry."  Well, people in Quimbaya have been doing it for ages, dear heart.  Just as in other parts of Durham where Dukies dare not go, one gains the impression in Quimbaya that having beans and pork belly on the table for dinner means your luck is running high.
But appearances can be deceiving and the tarnish on Quimbaya's charms may well be entirely intentional.  Farmers are not known for being stylish — at least not in my neck of the woods.  It may well be that things go along swimmingly in Quimbaya without benefit of paint or frequent repair, who am I to say?  To that end I leave Quimbaya to its ways, mysterious to me perhaps but doubtless crystal clear to its inhabitants.  I didn't take any pics there.  It seemed like doing documentation for a governmental social service agency and I'm a tourist, not a sociologist.  So on we go to Calarcá.

Calarcá
In all the time I've spent in Pereira I've never heard anybody say anything about Calarcá.  This puzzles me.  It has what looks to be one of the best botanical gardens in the region that includes a "mariposario," i.e. a butterfly collection.  That in and of itself should surely gain for the place some tourist traction?  But no, mum's the word.  And by the way, "mariposario" is for dead critters, not live ones.  A place to see the little dears flitting about is called a "sanctuario."  That fact was pointed out to my attention by the guide who led me around the Recinto del Pensamiento in Manizales.  So you're essentially in a butterfly mausoleum in Calarcá's collection, but hey, I'll take 'em dead or alive.  I'm not fussy.
Faced with the paucity of information on local ground here your intrepid investigative tourist left no stone unturned.  I fired up Google and found out all I ever wanted to know about the town, the garden and the mariposario.  But I forgot to check the weather forecast while doing so.  As it happened, it was raining cats and dogs the morning I planned to go the botanical garden and homey don't do rain ponchos, sorry.  So that was the end of that idea.  I wasn't crushed, but I do want to go back and see the garden and the butterfly collection, housed whimsically in a building shaped like a butterfly.
Calarcá suffered from the 1999 earthquake that devastated Armenia since it's only about 5 miles to the east.  As a result there's precious little historical architecture on the ground these days.  The town square retains the standard format, although the church is a tiny little thing dwarfed by everything around it.  I did my best to find a good shot of something handsome in the town square and came up with this: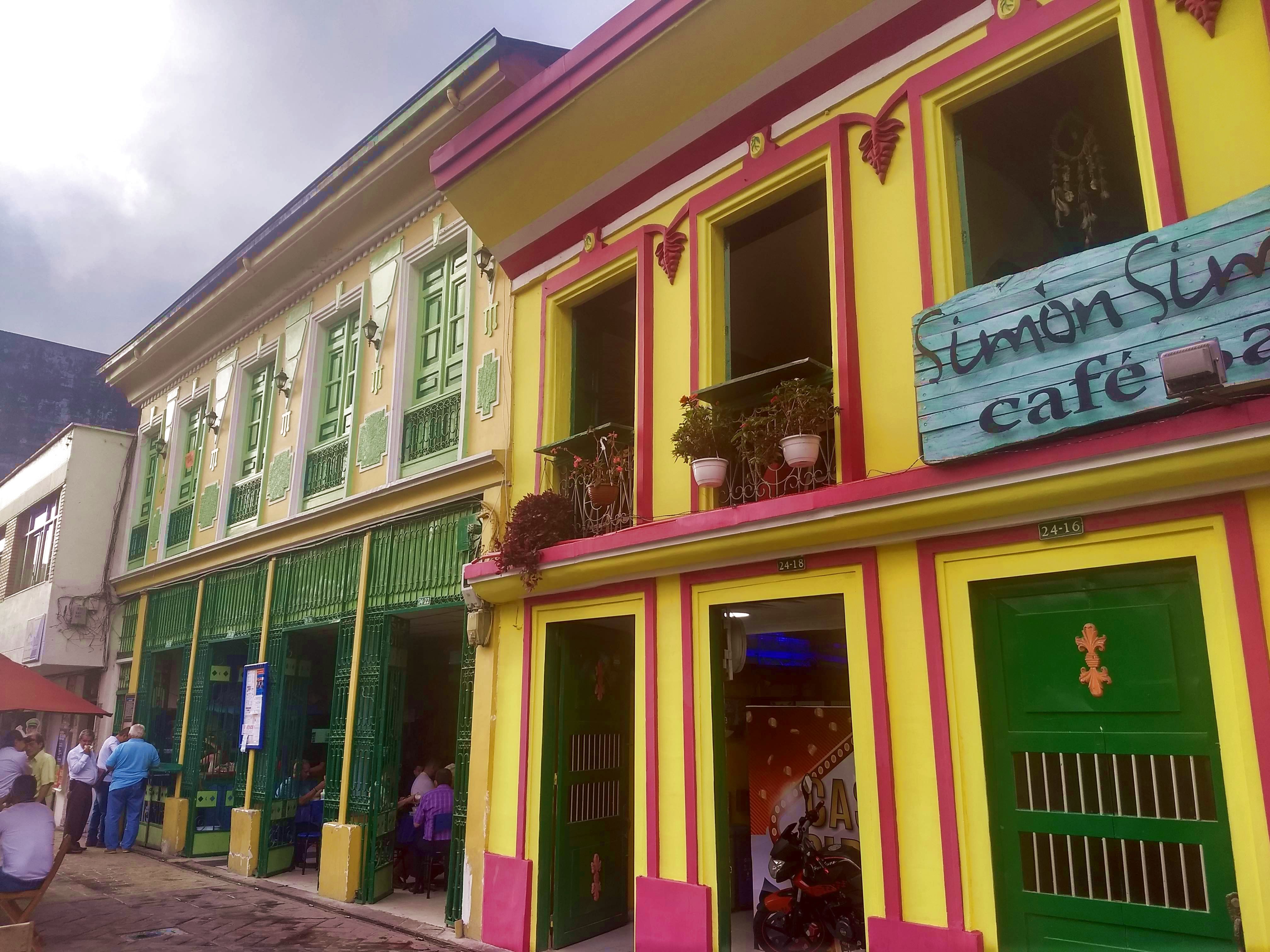 Not a bad showing for having had its rafters tumbled down by a Richter 6.2 earthquake.  I'd say give the town a thumbs up for effort.
My coffee farm hotel was just over a mile from the town center and I went back into town looking for dinner, expecting to find restaurants purveying typical Colombian cuisine thick on the ground.  Not a bit of it.  I ended up in a fast-food restaurant reminiscent of KFC, except they made their own drinks from fresh fruit.  Finding no other outstanding charms to detain my attentions, I finished my chicken burger and headed back to the finca-hotel.  That's the last I saw of downtown Calarcá.  There may be other things in town that knock your socks off but my stay was too brief to unearth them.
Let's finish this first part of the ramble with images of the countryside, which wherever you go is ravishing.  I can think of no better way to recommend the area than to show its natural face, which has all the charms anybody could want.