March 2020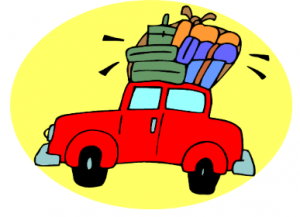 If you want to know why Arcata, blame Google Maps.  If you look for the major redwood parks along the northern California coast, Arcata sits approximately equidistant between them.  Since it has plenty of places to stay and has Humboldt State University, it seemed as good a place as any for setting up base camp as I explored trees and sea.  After driving around the area for a couple days I realized that I'd chosen well.  Where I stayed is a kind of traveler enclave north of the town proper, with several motels and a shopping center right across the street.  Bingo!
My first trip the day after arrival from Redding via Highway 299 (vide previous post) was to the North.  That decision occurred spontaneously and I didn't give it a second thought.  Why not south?  The mind works in mysterious ways.  My brain figured that since the Oregon coast is one of my favorite places on the Planet and heading north from Arcata takes you toward Oregon, north was the best bet.  The notion wasn't mistaken, but having been down south to other big redwood park I think a person could go in either direction and feel that a wise choice was made.  It's all good, that's the fact at the end of the day.
When you look at the map of northern California it grabs your attention that there are hardly any roads through it.  There's a very good reason for that: it's all mountains without any towns.  If I were the type to truss up and hike in for two days intending to camp in the wilderness far from civilization I would find satisfaction for my desire in northern CA.  But I'm not that type.  Perish the thought.  I wanted something easy that wasn't going to leave me crippled at the end of the excursion and promised to leave no trace on my car other than more miles on the odometer.  I found the perfect place for such an outing: the Newton B. Drury Scenic Byway that goes through Prairie Creek Redwoods State Park.  The Park lies 40 miles north of Arcata along Highway 101 (of considerable fame).  Much of the way Hwy 101 is divided highway, even styling itself a freeway to judge from the road signage.  At some points it scrunches down to a two-lane affair, however, so the freeway thing is to be taken with a grain of salt.  Anyhoo, it gets you to the turnoff for the Prairie Creek Park just north of Berry Glenn.  There's an excellent info page at redwoodhikes.com (webpage here) that will give you all the information your heart desires.  Perish the thought that I should steal their thunder, so I leave the info angle to hands better qualified than mine.
The Byway is a lovely and very rural area that feels far away from the hustle and bustle we outsiders associate with California.  Even when thinking of the redwoods the thought occurred to me that the parks would be full of booths selling chachkas and T-shirts — but not a bit of it.  It's pure Nature and happened to be very quiet when I passed through.  For those who want an easy get with the full experience of being deep in the redwood forest, the Byway is the perfect option.  A short walk back from the roadway puts you right into the thick of the old growth.
I had never been in a redwood forest before.  Those of you who have done will no doubt appreciate the wonderment I felt at being in the presence of something so big and so old.  I've been around some big trees in my time — Douglas fir eight feet thick, western red cedars it would take four people holding hands to make a circle around — but nothing approaching the dimensions of the redwoods.  Yes, Bridget, they are ENORMOUS.  Duuh.  Hardly a newsworthy point for a travel blogpost, you're likely thinking, and quite right, too.  In point of fact I don't really have a redwood travel rhapsody to offer, I have instead a confession to make.  Oops.
First things first, however, in their due order.  When I breezed into town in my trusty sedan I didn't head immediately for the redwoods.  A chance turning (having missed the exit I was supposed to take LOL) brought me to the doorstep of the Azalea State Reserve just outside McKinleyville, a few miles up the road from Arcata.  Since I had time to kill before checking into the hotel I decided to have a look-see and a ramble.  I'm very glad I did, because it gave me a delightful experience I'd have been sorry to miss.  The CA government website for the Reserve is here.  This happy ecosystem was my first introduction to coastal California and we got on like a house afire.  The pics:
It was a month early for the rhododendrons so there were no spectacular blooms on display, but if you think there was nothing of interest then scrub that thought right out of your mind.  There was tons of cool stuff to visit.  My beginner's luck continued during the weekend I was visiting trees and sea, so I had cloudless blue skies for my rambles through the forest and along the seacoast.  Having lived some years ago in the Portland area, I know what March usually means: rain, rain and more rain.  So I felt enormously lucky to have two fine spring days clear as a bell for my explorations.  The first thing I'd like you to notice in the pics above is: LIGHT.  The second noteworthy thing is: COLOR.  The sky is blue.  The grass is green.  REALLY green.  There is light shining on the surfaces of the needles and leaves.  These things are important, my dears, so let us not take them for granted.  They are not only signs of my good luck, they are sweet treats for eyes bleached on the sight of snow for long weeks on end.  Having just passed through three months of winter doldrums in the Bitter North, when I hit the path you see in the first pic I felt like I had been born anew.  Light!  Color!  Leaves!  Flowers!  OMG how cool is that!  Fortunately nobody was about to hear me exclaiming to myself as I walked and discovered the treasures in my path.
The trees are Sitka spruce, not redwoods, but they get an A+ on their report card all the same.  Spruce not only looks nice, it smells nice, too.  Two treats for the price of one, can't beat that.  And around the first corner I turned what should I find?  An old and dear friend, Trillium grandiflorum, known by some folks as wake-robin, but I've always just called it trillium.  "Grandiflorum" means "big-flowered" and the two chums I met on the path certainly did their bit to uphold that reputation.  Strapping great things they were, with lovely large flowers perched elegantly atop the greenery.  What a treat for sore eyes.  Further along the path I came across a small wooden footbridge across a stream and who should meet me on the path?  It's western skunk cabbage, of course — Lysichiton americanus, another old friend from my own neck of the woods.  The last pic is another old friend, the name of which escapes me at the moment however much I rack my brains to haul it up.  Never mind, the foliage is the focus at this time of year and the thick stand of it seemed to me a perfect picture of Spring.
The following day dawned clear (and a bit cold, truth be told) so I sallied forth mid-morning on the quest for redwoods.  An hour's drive brought me to the Byway and lo and behold, great trees held forth.  I'm going to give you the pics before I say another word:
If you're wondering what a picture of trillium is doing in the RedwoodsRUs section, there's a reason.  These lovely things were the first thing I saw when I got out of the car at the trailhead parking area.  It's the only place I saw trilliums anywhere I wandered that morning on the paths through the Great Trees.  That has its significance, of which more later.
So, quite the show.  The first thing you come to when you enter the Byway from the south as I did is the Big Tree trailhead.  Now I grant you, "Big Tree" doesn't show any particular pizzazz in the naming department, but however basely utilitarian the name may be it cannot be faulted for inaccuracy or hyperbole.  Redwoods being the rock stars they rightly are, there's even a website that gives you the skinny on Big Tree (webpage here), to wit:
When you're standing in front of it, 15th largest doesn't mean very much, to be honest.  After a certain point there isn't any bigger than big.  But man's penchant for the tallest, widest, deepest, etc. etc. knows no bounds, so the redwoods have had the bejeezus measured out of them.  Apparently the tallest redwood — to which you can't drive in a sedan 🙂 — is Hyperion, to wit:
Hyperion, the world's tallest living tree

The tallest tree in the world is a coast redwood (Sequoia sempervirens), named Hyperion after a person in Greek mythology. The tree is no less than 115.72 m (379.7 feet) tall! This enormous tree was discovered only in August 2006 in a remote part of Redwood National Park, California by naturalists Chris Atkins and Michael Taylor. Their first preliminary measurements were done with professional laser measurement equipment based on goniometry.  In September 2006 the tree was remeasured by Steve Sillett. This was done in the most accurate way: he climbed to the top of the tree to drop a tape from there straight to the ground. This tape drop was filmed for National Geographic.

In July 2006 some other record tall trees were discovered: "Helios" (named after the Greek God of the sun), the world's tallest known tree as of June 2006 (114.09 m), "Icarus" (113.14 m), and "Daedalus" (110.76 m).
That means the tallest redwood is over 100 ft. taller than Big Tree.  I can't imagine it, to be honest.  I couldn't even see the top of Big Tree.  How would I be able to perceive the top of a specimen a hundred feet taller?  It's all a bit deflating in the end effect.  And anyway, I've never been a size queen. 🙂
So on to the confession since I don't have a redwood rhapsody to strum for you.  Being around the redwoods was a peak experience and encountering their beingness was something I'll never forget.  They are mind-boggling.  They are also so entirely divorced from human scale that they have the impersonality of skyscrapers.  One can do nothing but stand and be overawed.  The only part of the tree within reach of human touch has been dead for hundred of years — everything alive about the trees is so far up it's barely visible.  This curious circumstance resulted in my feeling that the trees were "vacant" for lack of a better term.  Their treeness was not tangibly present as a living being is tangible.  Trees are people, too — they have a presence about them and many of them give off fragrances (for example grand fir, a scent I'd be happy to wallow in all the day long).  Whatever life the redwoods have is buried so deep within them or sits so high up out of perceptible range that the trees seem to me in some kind of Zen state of suspended animation — holding their breath in a great "OM" as it were.
Which is complete bollocks, of course — my impressions and the reality of Sequoia sempervirens have no causal link at all.  I'm used to being overawed by mountain ranges or vast lakes but not by TREES for heaven's sake.  Yet that's the effect the redwoods have on me: to leave me stunned.  It's an experience I wouldn't have missed for the world.  But I can't imagine living among redwoods.  I'd go into a sulk in no time flat with company like that.
I put the pic of the trilliums sporting their blossoms so jauntily at the roadside because you'll see no flowers wandering in the redwood forest.  Think about it: redwoods are a climax species.  It is the purview of climax species to rule the roost and keep other things from growing in competition.  Our big trees have that part figured out to a T.  The only thing that grows as understorey is ferns for the greater part, once in a while where a bit of light filters down to the forest floor you come across a bit of wood sorrel, which is the clover-like plant in one of the pics.  You will find no trilliums, no skunk cabbage, no rhododendrons — it's too dark for anything like that to survive.
How dreary.  That's the feeling that overcame me after recuperating my wits from the shock of experiencing the redwoods' size.  They are the only game in town.  I hadn't thought of that, being used to trees that always play nicely with other species.  Not so the redwoods.  They're like Big Bertha coming in and squeezing everybody else out of the playpen.  One might even say their moms didn't raise them right — they never learned to share.
The upshot of this cascade of awareness and experience was that I did my walk on the Big Tree trail and then got in my car and headed for the seacoast.  Yes siree.  I wanted LIGHT.  I wanted COLOR.  It became abundantly clear I wasn't going to get either of those commodities in the redwood forest, so I followed my heart and hightailed it outta there.
On the way out I stopped at the visitor center — on the edge of an open field apparently useful on occasion for viewing wild elk (thank God none were about when I was there).  I found a lovely little bench for a sit-down while I soaked in the sight of the green field and the hills in the sunshine.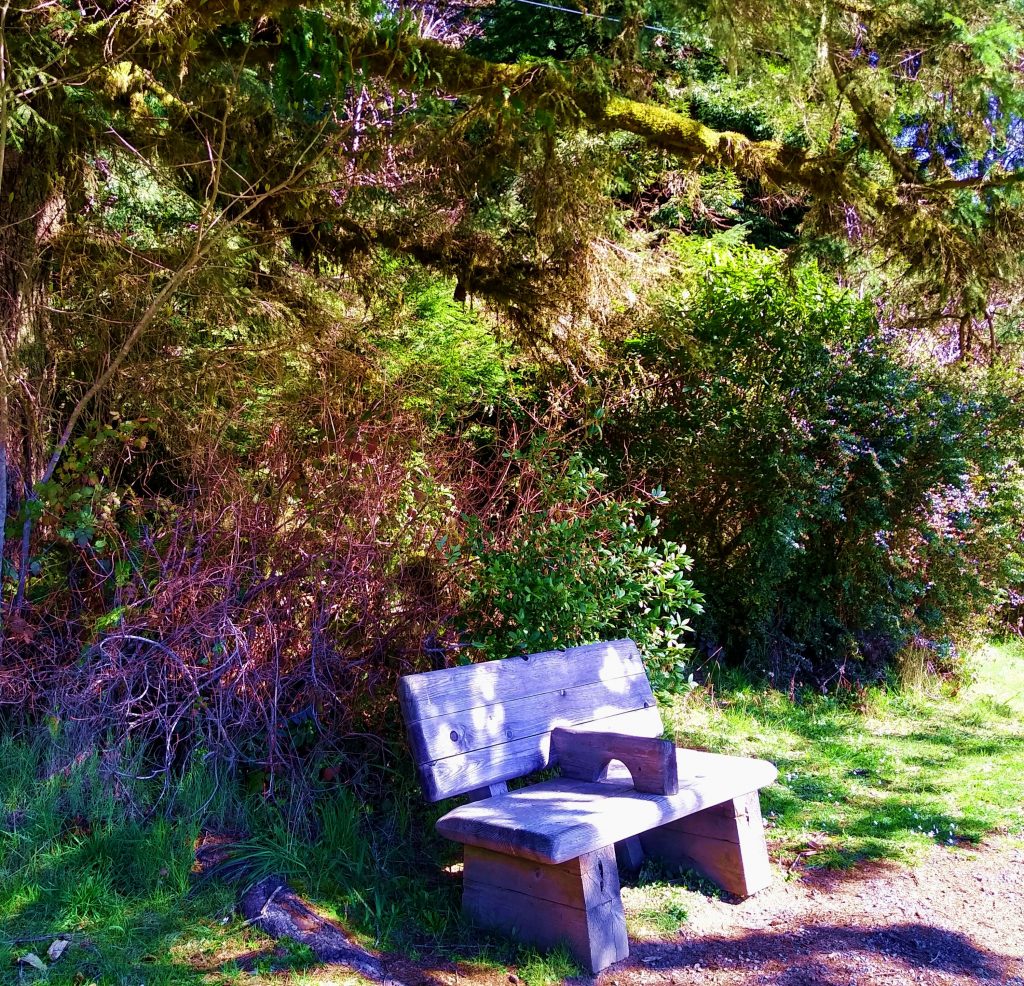 By the way, my departure from the Park was hastened by the odd chance of coming across a huge redwood that had fallen across one of the paths — you see it in the pics of the downed tree.  I remembered things I had read in the past about loggers wasting huge quantities of trees because they shattered into bits when they were felled.  The wood is like cedar — straight-grained and brittle.  When a stick of that size and weight hits the ground it's like an airplane crashing.  What a nightmare.  Better not to think about it …
After my brief sit-down on that lovely bench I needed an antidote for the redwood trance.  What better place to find it than on the seaside, where the eternally restless ocean keeps things changing with every second?  So off I went like a shot to Richards Point State Park, just a few miles south on the road back to Arcata.  Man, what a find that was.  Light!  Color!  Flowers!  Trees!  Ocean!  OMG I think I'm going nuts!
The theme of the visit quickly settled on "Trees and Sea" — how could it have been otherwise?  There was the sea, there were the trees and the rest is history.  But I must say, after the semi-comatose experience of the redwood forest I felt like I had been mainlining Starbucks double espressos as I charged around the seaside park.  Every turn brought a new vista combining rock, water and tree or another exclamation point in the understorey with its myriad of members in the plant community.  I saw old friends among them and things I didn't know but was very glad to meet for the first time.  Since it's near the water there are of course Sitka spruce in abundance, but the maritime pines are an especial favorite.  Their shapes are so unexpected and they always look like models frozen in a pose for a photo shoot.  I saw them all over the area, not just on the beach.  Wherever they stand they bring a spot of loveliness and interest to the visual field.  Just as an aside: they won't grow in the understorey of a redwood forest …
The sound of the ocean is intoxicating to me even though I'd never in a million years get into the water.  I love the rocky coast because the rocks mean sound when the waves come in.  Patricks Point is not unlike places on the Oregon Coast.  It's all about rock and water, mountains and ocean.
The redwood forest shocked me because I can't do without an understorey — there are too many dear friends who live there and I can't imagine never seeing them again.  Just thinking about it will make me cry crocodile tears, so let's turn our thoughts to happier things and see the pics of our plant friends from Patricks Point:
I had my hands full paying attention to all the things to see at Richards Point — nothing Zen or catatonic about that environment.  At the end of the day I suppose the same principle applies to forests that applies to art: de gustibus non est disputandem.  Otherwise known as: to each his own.  I will hold the redwoods in memory but I will recall with engagement the experience I had at Richards Point.  That's the place for me.
I did my due diligence and went south to the Humboldt Redwoods State Park and its Avenue of Giants (info here).  It's a lovely drive down from Arcata along the coast, which I thoroughly enjoyed.  Here's a pic along the way: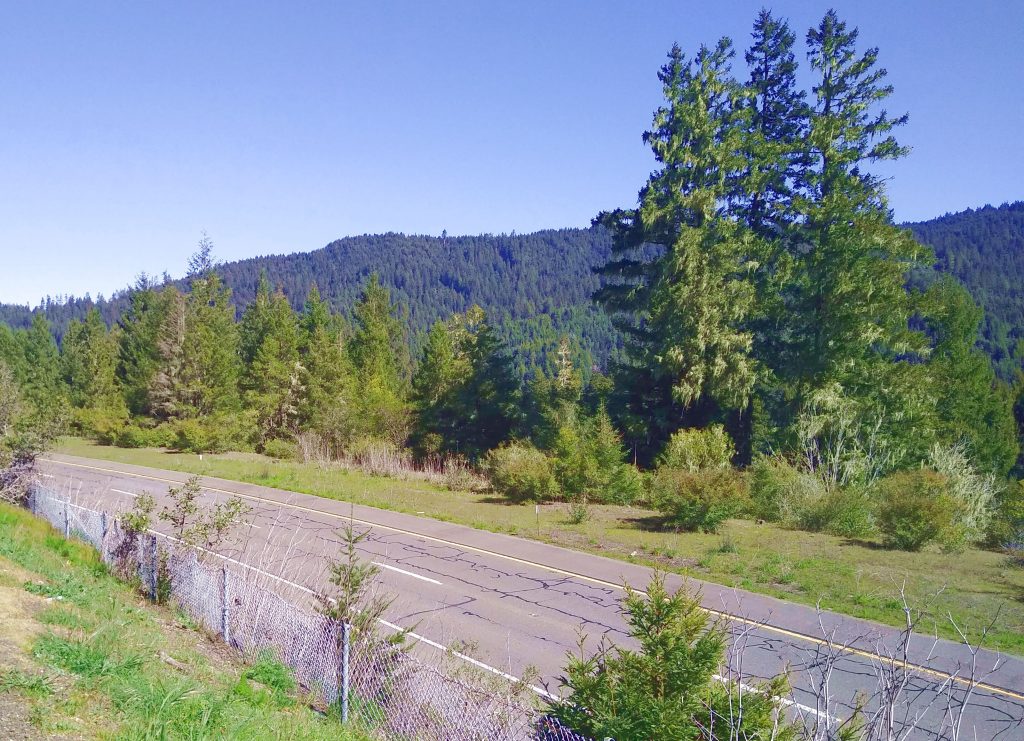 Light! Color! And then I got to the Avenue of Giants in the Humboldt Park (massively impressive) and guess what — no light, no color.  I walked around a bit and thought, "This is deja vu all over again."  So I got in my car and headed back up Highway 101 enjoying the view of the countryside as I tooled along in my cushy sedan, which I have dubbed The Asian Buick.
As I think of what lies ahead in my travels I wonder what it will be like to see the sequoias in the southern Sierra Nevada.  Will they be as absent-feeling as the redwoods?  I have no idea, and there's only one way to find out … 🙂