April 2020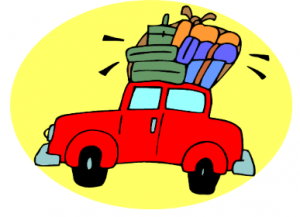 When last I wrote I was in the desert.  Since then a lot of road has hit the rear view mirror so let me bring things up-to-date.  After a suprisingly pleasant stay in Gallup, NM my next stop was Amarillo, TX.  It was a matter of necessity more than anything else but I had a passing acquaintance with the place from a trip taken many years by bus from Idaho to Mexico — Guadalajara to be precise.  Oh the stories I could tell … but I'll spare you the details.  So I chose Amarillo after Gallup because I didn't want to drive any farther and my memories of it didn't warn me off.  It turned out to be just fine.  The thing about US cities is that they're now all so much the same it doesn't really matter where you stay if all you're doing is hanging out in a hotel room until you fire up the car and take off again in the morning.  Some might find that a lamentable instance of standardization at the cost of regional individuality, but I'm all for it.  It's a great advantage to have some idea of what you'll find at the end of a long day's drive.  So I'm not complaining — precisely the opposite.
I had, however, forgotten the vastness of the flatlands in the Texas Panhandle.  Coming from a mountainous area as I do, the sight of an endless horizon lying flat against the sky like the line on an EKG monitor of somebody who's in cardiac arrest gives me a sinking feeling.  But it's just temporary, I told myself.  As I discovered to my unease, it's a LONG temporary.
The stretch from the NM/TX border to Amarillo brought all the operative elements quickly into clear awareness.  Flat land — still some mesas off in the distance as a tip of the hat to the western neighbor, but everything nearby flat as a pancake — roaring wind and in any direction you please the sight of Siemens wind turbines.  The wind turbine has now become the predominant landscape feature of northern Texas: it's all about wind farms.  Nothing could make better sense.  Wind is free, abundant (and how!) and turns the blades of those turbines like nobody's business.  The best thing to my eye was the green grass.  It was nice to be back in a place where something will grow.
After Amarillo my goal was a northern suburb of Dallas where I planned to stay a few days to give myself a travel break and rest up.  From Amarillo to the Dallas/Fort Worth area the route of choice is Highway 287.  I had no idea what it would be like and imagined a patched-up two-laner with stop signs in every burg.  Not a bit of it.  It's predominantly four-lane divided and in top nick.  It does pass through several burgs, that's true, and some of them have stop lights, but through the larger places Hwy 287 acts just like a freeway and has exits.  So I made good time on excellent road as I wended my way southeast.  Every once in a while there were a few hillocks to break the flatness, but flat was definitely the main item on the menu.
I could have stopped and taken pics but how many pics do you need of the Plains?  If you see one pic haven't you just about seen them all?  So instead I have something to offer you're not likely to find in any other travel post: rest area art.  And not just any old rest area art, oh no — RESTROOM art.  Yes siree.  Here's the story.
A bit past the halfway point between Amarillo and McKinney I sighed with relief to come across a real rest area, with toities and picnic tables and everything else a self-respecting rest area has.  When I went into the restroom I was immediately struck by ceramic plaques set into the wall.  Not only had I never seen a rest area restroom adorned in such a fashion, the plaques showed handsome designs ostensibly representative in one way or another of Texas.  In the main area of the visitor's center were some displays of Native American handicrafts, as well.  All this for free, such a deal!  The pics:
When I passed the highway sign for the rest area I saw it announced as a "safety area."  I had no idea what kind of safety was involved or why that particular rest area could offer it better than another place.  All was revealed when I headed for the restroom because just before you turn to the toities there it is: "Tornado Shelter."  That's how northern Texas spells "safety."  Yikes.  Maybe God didn't mean for people to live there …  The last pic shows the true nature of the terrain.  It's unfair to call it "nothing" and despite the shelter sign significantly increasing my sense of godforsakenness about the place, there is indeed something.  There is blue sky and green grass.  I did my best to imagine what it would be like to live with such a landscape day after day, year in and year out.  Would I find something in it to which my mountain-spoiled eyes were blind?  Is there some angle of awareness that makes what's visible less important than the inner experience it evokes?  Would I ever be capable of seeing past the absence of trees that made the landscape seem to me like a person standing there in underwear having forgotten to put on the rest of the outfit?  At that juncture my nomad status came to the rescue: it was time to pile back into the car and keep driving.  Thank goodness.
When I got 30 miles north of Fort Worth it was time to turn left on Highway 380.  As I approached Denton, some 20 miles east of the turnoff at Decatur, I entered an urban corridor the like of which I have not before seen.  Enormous apartment blocks became visible on either side of the road, the units packed together cheek by jowl and all made to the same plan.  Malvina Reynold's song came immediately to mind: "… and they're all made of ticky-tacky and they all look just the same."  Theodor Adorno in Minima Moralia says something very similar with a more theoretical bent.  What surprised me most was my own reaction to the sight of the structures.  They horrified me.  I recoiled at their sight as if at the sight of an accident on the road.  The bleakness and stricture they imposed visually must, I thought, have an analogue in the lives of the people who live in such places.  Then the thought passed spontaneously through my mind, "That's what happens when there are too many people."  The population of the Dallas metroplex is well on its way to eight million.  I've never lived in such a place so I'm not one to judge its relative advantages or disadvantages, but living in something that looks like a Nazi-designed poultry farm seems a high price to pay for the pleasures of urbanity — if indeed there are any pleasures to be had.  It all seemed to me a very dodgy business from its showing along Highway 380.
When at last I made it to McKinney I discovered it (with a sigh of relief) to be tolerable.  It's the burbs, there are open fields of grass nearby, the traffic isn't choked 24/7, there are shops all over the place and a 10 minute drive got me anything my little heart desired.  The weather was beastly the entire time so I huddled in my suite and worked on research and writing, things that can be done anywhere on the Planet where there's Internet access and a place to lay one's head — and a plug-in for the coffeemaker.  🙂
Of my passage through Oklahoma until the start of the Talimena Scenic Byway outside Talihina I want to share only some pics of Lake Eufaula, just north of Mcalester where I overnighted.  My plan worked out quite well: starting out in the morning from Mcalester made a good day's drive across the Byway and into Hot Springs, Arkansas.  It would be unfair of me to assess Oklahoma from the small bit of it I saw.  My main agenda item, the Scenic Byway, is really a western extension of the Ouachita Mountains in Arkansas.  The fact that it's in Oklahoma has little to do with terrain and far more to do with the happenstance of political border-making in the 19th century.  Think of the Rogers and Hammerstein musical and ask yourself if you picture it happening in the mountains.  No?  Of course not.  Let's sing the first part of the song: "Oklahoma, where the wind comes sweeping down the plain …"  No mention of mountains or scenic byways, right?
But my little excursion to Lake Eufaula was a great idea.  It's a lovely place — a dam reservoir that spreads out a good distance.  I picked it out from my searchings on the map as the day's sight to see before I tucked in at the hotel in Mcalester.  Only about 20 miles north of Mcalester, it's an easy get.  I was only after access to the shore, not posh picnic cabanas or fancy visitor centers, and it's a good thing, too, because everything about the park is basic save the scenery.  The scenery is fantastic — here are the pics:
I had unusual good luck with the weather the next day as I headed out of town for the Byway — clear as a bell.  Yeehaw.  The Byway is an analogue of the Blue Ridge Parkway but differs in important ways.  It receives much, much less tourist traffic so it's less developed and has no amenities.  The road condition is not bad but it's not dinner-plate smooth like the Blue Ridge Parkway, either.  Two things formulated in my awareness as principal differences: the terrain and the vegetation.
The Byway follows the ridge of a mountain from which on either side valleys open.  There's none of the cascading topography typical of the Blue Ridge, where from the Parkway you look out over what seems an infinity of lower ridges sliding down to the flatlands in the far distance.  The mountain the Byway rides atop falls away declivitously into broad valleys on both sides.  Given the almost constant haze in the air due to ambient humidity the scenery often has the quality of a Chinese landscape.  The Byway's ridge is higher than the Parkway's, as well, so things have a much more alpine look.  The trees are poor struggling creatures half the size they would be in the valleys and even in mid-April things had barely begun to leaf out.  So the drive is much less cozy than the Parkway and the scenery is more inscrutable.  That said, it's absolutely lovely.  There really is nothing to be had along its entire length so if you have any doubts about your vehicle don't do it.  It's no place to have car trouble, believe me.  I didn't check the phone to see if I had any bars but I can't imagine I did — and I've never trusted smoke signals farther than I can throw them, so a word to the wise etc. etc.
As for the vegetation, it's completely different from the Blue Ridge area.  The forest type is a mix of shortleaf pine (Pinus echinata), various oaks and a bit of hickory thrown in for good measure.  In the Blue Ridge you don't find conifers except at high altitude and then you're likely to come across fir as well as pine.  No fir in the Ouachita Mountains.  The mix of pine and oak, of needles and leaves, makes a mottled landscape I'd never seen before.  It's quite striking and very lovely.  Here's what I saw:
You cross the Arkansas state line in the middle of the proceedings.  When I passed the "Welcome To Arkansas" sign I took due note but expected nothing earthshaking to happen.  And it didn't — until I went down the road another few miles and saw the first redbud in full bloom.  Redbud and flowering dogwood are the signals of Spring in Virginia and North Carolina and I love both of them to death.  I saw no redbud in Oklahoma, so when a hearty specimen blazed its color as I passed it just over the Arkansas state line I began to understand that things had changed in a major way.  And sure enough, as I continued I saw more and more species I recognized from Virginia and North Carolina.  At the sign for a historical marker I decided on the spot to stop and have a closer look.
The historical marker is for a pioneer cemetery.  It's on Rich Mountain, which apparently was home to a few settler families from the mid-1800's until 1949.  Things being the way they are with pioneer life, if one of your lot croaks you do the funeral stuff yourself.  So near the ridge of the mountain was a cemetery with some stones — uncarved and uninscribed — marking the graves of some early settlers.  I'll be honest with you, though — I could have cared less about the pioneers.  I came across a wildflower bonanza that had my eyes popping out of my head.  Wild onion, wild iris, spring beauties, mayapple, white and purple spider wort — I went nuts as I walked along the trail and saw all the things blooming.  So to the pics without further ado:
The elevation lowers gradually after you cross the Arkansas state line which probably has something to do with the more advanced state there of leaf and bloom compared to the portion of the Byway in Oklahoma.  Whatever the reason, the sight of the wildflowers and the bright green of new oak leaves worked like a tonic on my spirits.  Not too long after you cross the Arkansas state line you come to the Queen Wilhelmina State Park.  Don't ask me why a state park in the boondocks of Arkansas is named after a Dutch queen.  Whatever mysterious ways led to that denomination have escaped the sticky tentacles of Wikipedia.  It's named after Queen Wilhelmina (1880-1962), a monarch who did the Netherlands proud during her long reign, but I wonder if she knew before her death that she had a state park in Arkansas named after her …
The Queen's state park is a full-on affair with amenities galore.  They happened to be closed during my visit (pandemic fallout, dontcha know), but never mind, they're there and one fine day in the not too distant future, knock on wood, they'll be open again and welcoming visitors who aren't deathly afraid of being around each other.  I contented myself with a stop to inspect The Wonder House, a fetching stone building across the road from the Lodge and Restaurant.  The sign tells me that it was built in the first half of the 20th century and bought by an Oklahoma oilman to use as a vacation cabin.  There are ostensibly 9 levels to the structure but where they all are beats me.  I was only interested in the externals, and here they are:
Very shortly after hitting the road from the Queen's park you have a choice to make.  Are you going to continue up hill and down dale on the Byway to the town of Mena, or are you gonna take the easy way out and follow the short junket down to Highway 270 where the driving is easy?  Having earned my spurs on the Byway's Oklahoma stretch I figured I was up for a break so I headed for Highway 270.  No sooner was I on the junket than I had my reward: my first sight of a dogwood in bloom, together with the sight of the vibrant green of new oak leaves in sunlight.  It was then I realized: I'm in the South again.  Yes siree.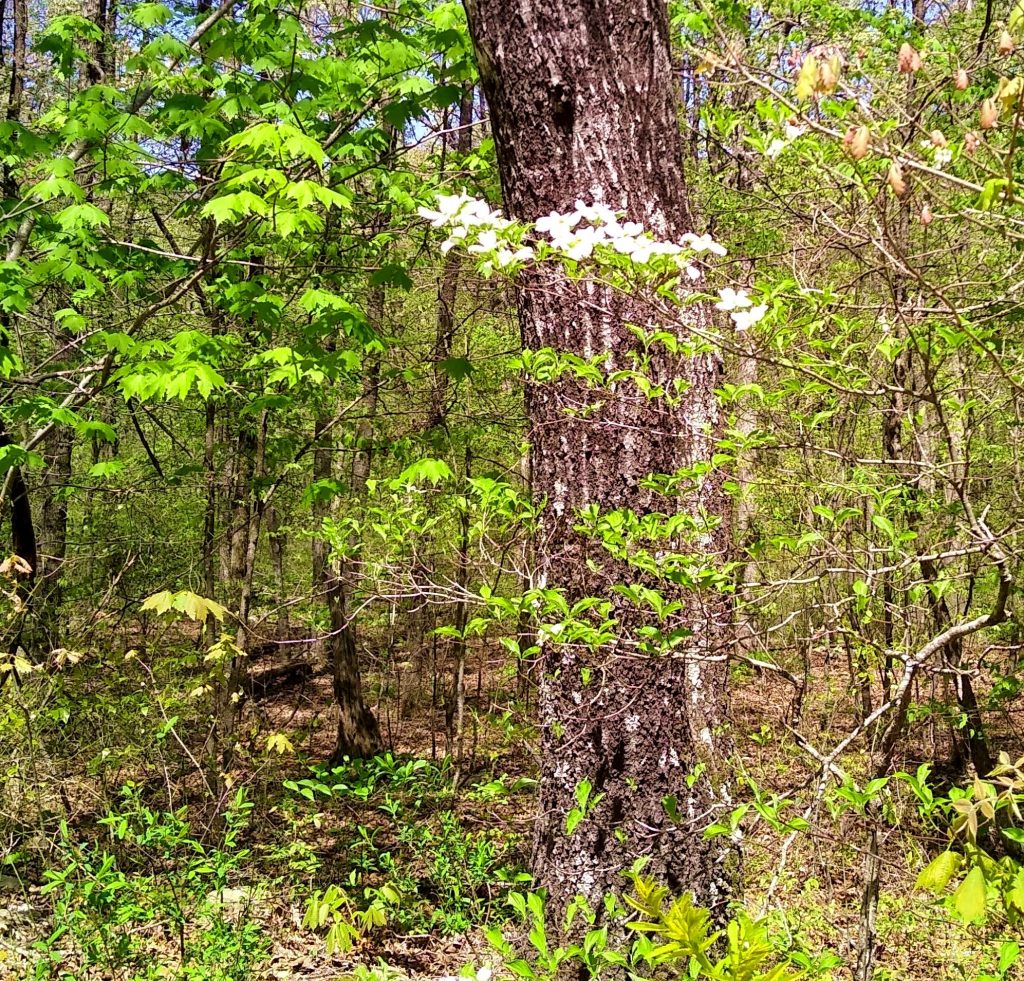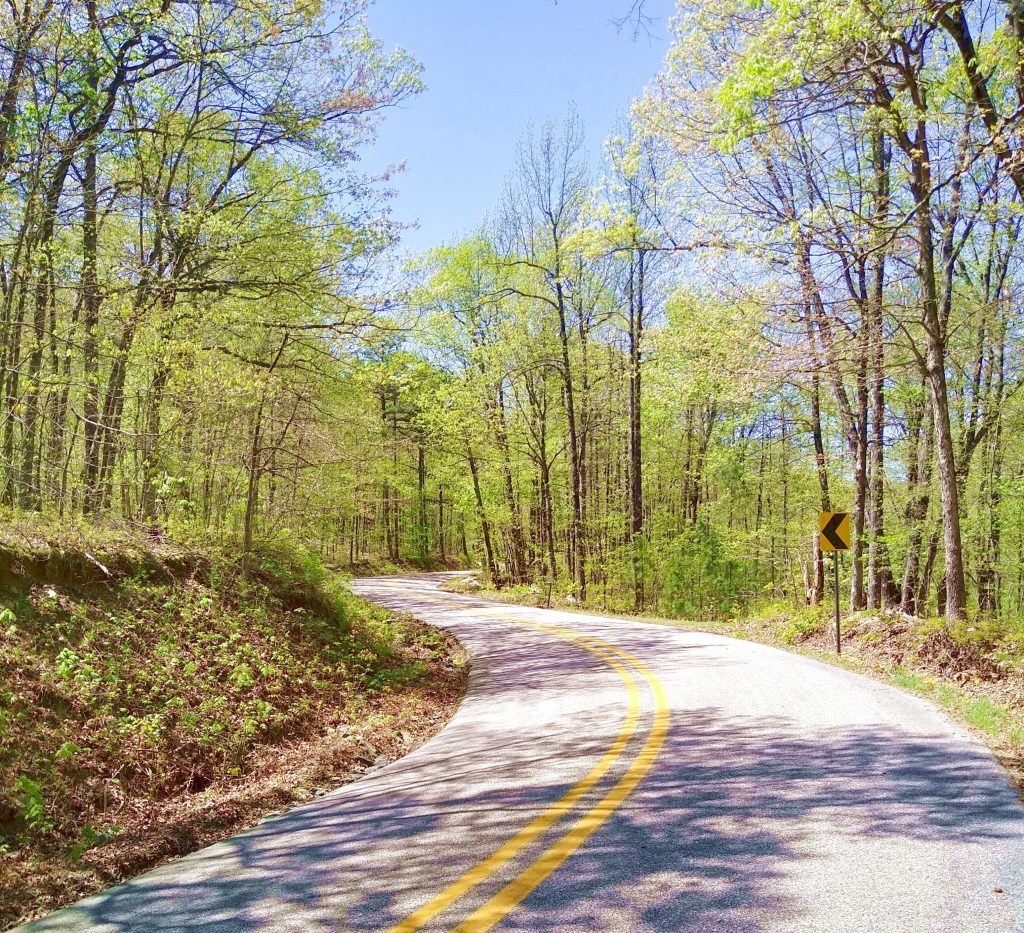 I recommend Highway 270 wholeheartedly — it's a beautiful drive through the Ouachita National Forest, easy especially for a solo traveller (i.e. one behind the wheel all the time) because it's an appealing blend of good road and lovely long views.  I wish I'd been able to stop more often to take pics but the show had to go on — very few turnouts.
By the way, just so you know, Google Maps speak with forked tongue.  If you check the distance between Mcalester, OK and Hot Springs, AR you get the value of 157 miles.  That's bollocks, mate.  It's 50 miles more than that.  It didn't matter to me, but just think if you were having a baby, or if you had that wacky girl from The Exorcist in the back seat doing disgusting things or something of the sort …  Anyhoo, I mozied my way along Hwy 270 taking in the delicious scenery (and turning off onto side roads when I could to let the roadrunners behind me pass, jeez) and eventually made it to Hot Springs, my destination.  I was surprised on my way into town by a sign that read, "Welcome to Hot Springs, Boyhood Home of President Bill Clinton."  Knock me over with a feather.  I thought his lot was from Little Rock.  After driving through town on my way to the hotel it wasn't difficult to imagine why they moved away.  Just saying … 🙂
But Hot Springs has a setting to die for, with Lake Hamilton getting all up in its face and creating tons of little coves and bays that look the perfect picture of tranquility.  My hotel sat on a spit of land jutting out into the lake and from its hilltop — only a minute's walk from my room — I had a view that even in Arkansas must cost residents more multiples of what I paid for a night's accommodation than I care to know.  Here's the proof of the pudding:
While the distance I covered is not immense it's a slow go and there's more than enough reason for frequent stops.  All in all it took me six hours — thanks to that extra 50 miles Google Maps forget to mention.  But once you're on Highway 270 it's an easy go and the road is great.  I'd consider the stretch of 270 between the state park and Hot Springs a worthy scenic drive all by itself, it's that pretty.
I had an interesting and useful thought as I tooled along the Byway.  I'd never been in Oklahoma before and I was going to cross into another state I'd never visited and about which I knew relatively little.  For most people from my part of the country Oklahoma is as unknown a quantity as Albania.  Ditto for Arkansas, but I had done research on the Ouachita National Forest and had an idea of the geography.  The culture was what I had no idea about.  My interesting thought was this: the culture doesn't matter.  The time I intended to spend in Arkansas was all about its natural features — after all, it styles itself "The Natural State."  So what did it matter to me whether the inhabitants were yahoos or not?  All I intended to do that involved people was buy a few groceries — period, end of story.  I found that thought vastly liberating because it freed me from dealing with the human dimension of the place.  I didn't need to explore it, understand it, or adapt to it — all I needed to do was look at the forest and the lakes.  So don't ask me what the people are like — couldn't tell ya.  Didn't pay 'em no mind.  (And by the way, that's pronounced "maaahnd" kids, just so you know 🙂 ).
After all, it isn't the people that make Arkansas the gorgeous place it is.  Oak trees and dogwoods in the springtime … those are the sights for sore eyes.  Yes siree.